Apple iPhone 4 vs. HTC EVO 4G: side by side
22

Introduction: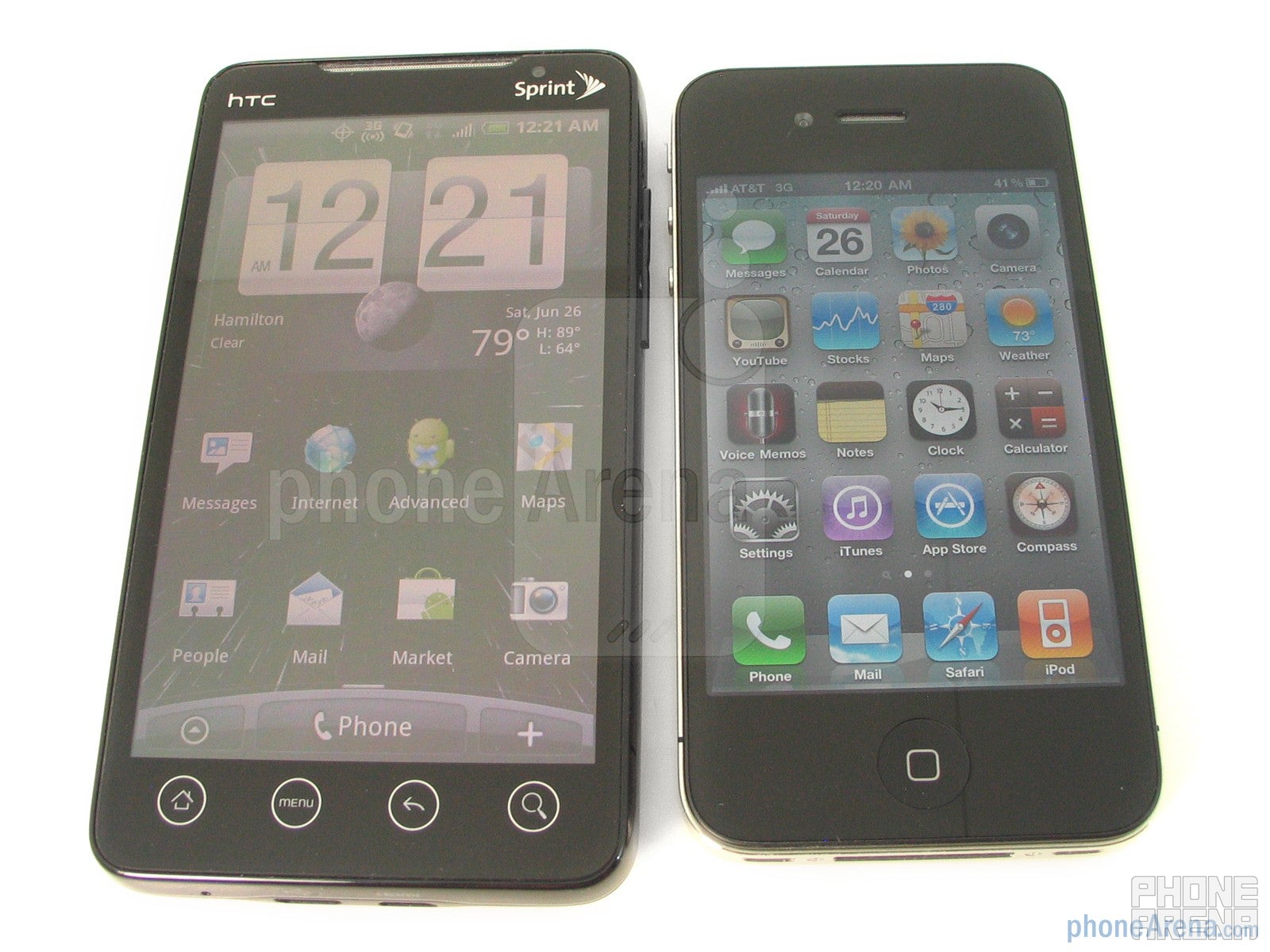 It was bound to happen at some point, but being two of the heavy hitters on the block this summer, it was only inevitable before the
Apple iPhone 4
and
HTC EVO 4G
were pitted against one another. Android may have an army of devices in its arsenal, but the HTC EVO 4G proves to rise above the pack right now due to its sheer larger than life presence and packed hardware that will make anyone take notice. On the flip side, the iPhone 4 is the latest iteration of Apple's venerable smartphone which managed to see a major renovation in terms of hardware, design, and software to make it one quite compelling smartphone. Naturally there are plenty of consumers out there torn between their next handset purchase and are eagerly awaiting to see which to go with. Now that these two juggernauts are heading on a collision course towards one another, we'll compare them side by side to give you a better understanding of how they stack up.
Design:
There is a lot of credit given to the design of the HTC HD2 which ultimately was adopted well with the creation of the HTC EVO 4G. The sheer amount of real estate that the handset encompasses can really overcome some individuals who aren't comfortable wielding such a streamlined, but mammoth device. With three years under its belt, we've seen very few design changes in the last two iterations of the iPhone, the 3G & 3GS. Thankfully Apple went back to the drawing board and spruced up the handset a little more with its homage to the nostalgic look which tastefully places a modern dash of elegance to the mix.
Both handsets clearly are beautiful in their own regard, but the iPhone 4's choice of premium feeling material, such as the solid glass-like surface and brushed stainless steel band, outshines the HTC EVO 4G. It's not to say that the Android powered device doesn't hold well on its own, but rather, it continues to be one of the finer looking Android handsets on the market right now. What's even harder to believe about their designs is just how thin they come in at – especially when you consider all of the packed internals inside of them. The larger sized HTC EVO 4G comes in an astonishing 0.50" thick, which is eye catching in itself when you think about its 4.3" display, but Apple further managed to minimize the iPhone 4 to 0.37"
thickness
.
Even though it may not be a deal breaker for some, the HTC EVO 4G's inclusion of a
kickstand
does make it appealing – we sometimes find it handy in situations when you just want to watch something while sitting back. Additionally, the HTC EVO 4G's micro
HDMI port
would allow most people an easier time to share content – although you can accomplish the same on the iPhone 4 by purchasing a proprietary adapter. Finally, both smartphones are constructed well as we don't have any inkling to their durability against the elements over time.
So what kind of
displays
tickle your fancy? Larger or largest? For the iPhone 4, it's still stuck on the same 3.5" size which was even in use with the original handset. Instead of attacking real estate, Apple decided to employ an LED backlit IPS display with ultra-high resolution of 640x960 pixels, dubbed the "Retina Display," which drastically improves the quality over the previous versions. Not only is the tiniest of text are crisp and distinguishable to the naked eye, but its support for 16 million colors easily resonates on paper over the HTC EVO 4G's 65k. However, the HTC EVO 4G takes the advantage in terms of size as it comes galloping in at a staggering 4.3". Combine that massive size with a WVGA resolution, it still manages to be visible compared to the iPhone 4's Retina Display in being able to read out fine text – still, the iPhone 4 has better clarity in this category. Honestly, both handset are quite beautiful and look fantastic in their own regard. Finally, we still like the fact that the iPhone 4's display will look pristine every time you take it out of the pocket thanks to its oleophobic coating.
Apple iPhone 4 360 Degrees View: HTC EVO 4G 360 Degrees View: Recommended Stories