Apple iPad Air 2 vs Apple iPad mini 3
6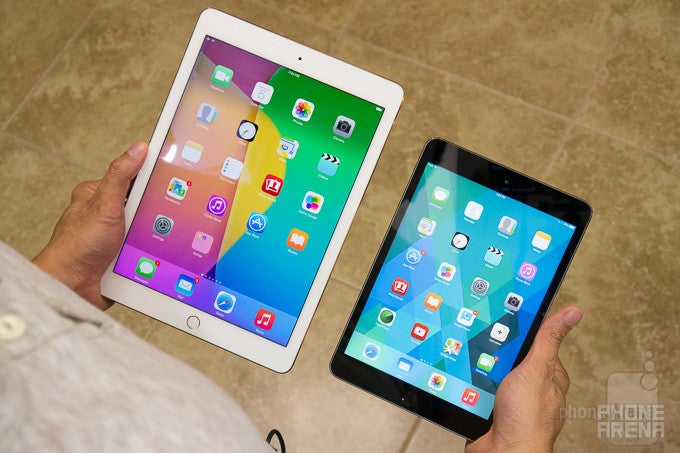 Introduction
Apple, in standard fashion, introduced its two new tablets, the
iPad Air 2
and
iPad mini 3
, to the public not too long ago – both of which, naturally, are expected to compete in the upcoming holiday season. Generally speaking, Apple intends for them to go against the other hordes of tablets occupying the space at the moment, but we can't forget that consumers might be inclined to decide on only Apple's tablets. Taking that into consideration, it'll be interesting to find out exactly what tablet should they invest their hard earned money into.
Design
Size, that's arguably the most profound distinction between the two, as they boast the same premium design language.
Without a doubt, the only thing separating the iPad Air 2 and iPad mini 3 from a design standpoint is their size. Obviously, the iPad Air 2 is the larger of the two, but what's notable is how incredibly thin it is in comparison to the iPad mini 3, which doesn't see any improvements to its design when compared to its predecessor. At the very least, though, both exude premium finishes that don't disappoint.
Bearing the same iconic designs of their predecessors, they're outfitted with nearly the same set of buttons and ports around their trims – though, we should point out that the iPad Air 2 does away with the mute/rotation lock switch. In addition, their home buttons incorporate Apple's fancy Touch ID finger print sensor.
Display
The iPad mini 3 has better pixel density on paper, but the iPad Air 2 bears more favorable characteristics that make its screen the more polished between the two.
Diving into their respective screens, both of which offer resolutions of 1536 x 2048 pixels, the iPad mini 3's 7.9-inch Retina Display benefits from a higher pixel density figure of 324 ppi – in comparison to the iPad Air 2's tally of 264 ppi from its 9.7-inch Retina Display. In reality, however, the difference is hardly noticeable, both from normal and close-up distances.
Unfortunately for the iPad mini 3, that's the only area where it's able to best its sibling, seeing that the iPad Air 2's display bears traits that indicate to us that it's higher in quality. Looking at their brightness outputs, the iPad Air 2 shines stronger at 410 nits – whereas the iPad mini 3 chimes in at a lower 312 nits. On top of that, colors appear more realistic with the iPad Air 2. And finally, we should point out that the screen of the iPad Air 2 is also fully-laminated, which makes the panel appear closer to the surface – thus, giving it that floaty look.
Display measurements and quality
Recommended Stories