Acer beTouch E140 Review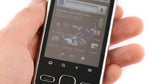 Introduction:
The affordable Acer beTouch Exxx line of phones has a new member - the beTouch E140. Similar to the E110 and the E120, it's an inexpensive handset that packs a 2.8-inch resistive screen with a resolution of 240x320. Unlike the
E110
, however, this phone offers a few goodies like Wi-Fi and the Android Market, as well as Froyo (the E110 is running Android 1.5 out of the box), which makes it much more attractive than its predecessor. But is the
Acer beTouch E140
better than its low-end Android rivals? Read on to find out.
Design:
The design of the Acer beTouch E140 and its dimensions (4.11 x 2.20 x 0.50) are similar to what we have already experienced with other low-end Android handsets like the
T-Mobile Comet
and the
Samsung Galaxy 5
. When you hold this handset, it feels quite compact, hence it's easy to use it with one hand, and it is also extremely lightweight (only 3.35 oz).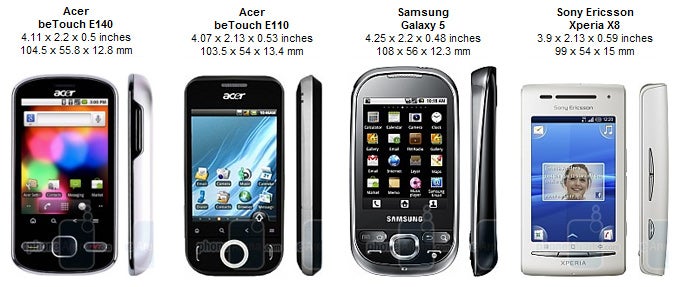 You can compare the Acer beTouch E140 with many other phones using our
Size Visualization Tool
.
When you combine a
2.8-inch resistive screen
, a QVGA resolution and 262 144 colors you can hardly get a great experience, and the Acer beTouch E140 is just another example of that. At times, smaller text is not very legible, which may be a source of irritation when it comes to browsing, and color reproduction is not particularly good either. The same applies to the viewing angles of this phone, which is to say that in certain angles it's actually impossible to figure out what's on the screen. On the positive side, the display is responsive for a resistive one, and chances are that you won't face too many problems with it.
The Acer beTouch E140 offers a clean design with three physical
buttons
on the front side, which are relatively easy to press, and above them are the standard Android ones, which are resistive. On the
right side
is the volume rocker, while on the
top and back
sides are located the 3.5mm headphone jack and the 3.2MP camera, respectively.
Take into account that the Acer beTouch E140's body is a fingerprint magnet due to its plastic construction, and the same is true for its screen.
Acer beTouch E140 360-degree View: