Xiaomi Black Shark 2 appears in hand-on video: RGB lighting galore!
7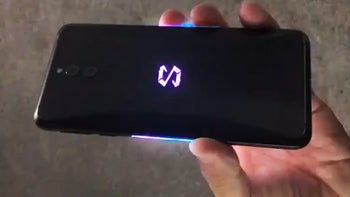 The original Xiaomi Black Shark gaming phone was released earlier this year as a more affordable alternative to the Razer Phone. Now, with a second Razer on the horizon, the Chinese tech giant has also announced a successor to its gaming smartphone – unsurprisingly dubbed the Black Shark 2.
Xiaomi's official website for the Shark 2 now has a vague teaser that implies international availability for the phone. You can check it out at
global.blackshark.com
. Aside from this implication, however, the page reveals little else.
But wait, we now have a leaked hands-on video of the Xiaomi Black Shark 2 in action! Well,
"in action"
may be a bit of an exaggeration, considering the video doesn't even show the front of the phone, but there's certainly some garish RGB action going on around the back. Yes, much like the Razer Phone 2, the Black Shark 2 is getting a crazy RGB logo on the back, as well as two light-up bars on each side of the frame.
Both the Razer Phone 2 and the Xiaomi Black Shark 2 are equipped with Qualcomm's Snapdragon 845 and 8GB of RAM. The Xiaomi, however, is expected to come with128GB of internal storage rather than 64GB. It's also going to have a taller, 18:9 display, though it won't work at 120Hz like the Razer. Xiaomi's offering is also expected to launch at around $500, which is considerably cheaper than the $799 Razer 2.