xBounds looks to create wireless HDMI on Android devices
6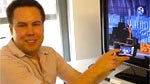 German based engineering company, Dream Chip Technologies, is working on a wireless HDMI mirroring system it is calling xBounds. Dream Chip Technologies recently released a video on YouTube that demos the software being used in common applications such as productivity software, movies, and games.
xBounds uses 3D OpenGL ES and operates over Wi-Fi. Judging from the video, it is very low latency. The system does not require any additional hardware on the Android device, but does require a small receiver added to the TV, monitor, or projector.
Another impressive feature of the device is that it is able to output a higher resolution than what is currently displayed on the phone. This means that both the phone and the output device can display the content in true full screen while maintain their respective optimal resolutions.
The RemoteGPU, that is required to add to the output device, isn't officially on the market yet, however it is expected to retail for €99, which is approximately $134. Dream Chip Technologies is also anticipated to offer a developer's kit that includes a Nexus S for €998, or $1,350. We're not sure that the average Angry Birds enthusiast would be able to justify this price tag, but there is a lot of potential for those who work or do presentations on the go.
source:
Droidcon
via
Engadget