Apple AirPod gets swallowed for ibuprofen, stays connected, leaves digestive voicemail
8
We may earn a commission if you make a purchase from the links on this page.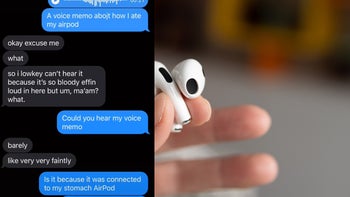 We had to file this one in the accessories category, but it's probably more suitable for a curiosities tag, as it involves Apple's crime of omission to write "do not swallow" on the AirPods box. That's right, a Bostonian swallowed an AirPod, mistaking it for the ibuprofen pill she held in the other hand, and lived to tell about it on TikTok.
I was crawling into bed. I had Ibuprofen 800 in my right hand and I had my left AirPod in my left hand. I like threw something back, took my water bottle and took a sip... then realized it wasn't the Ibuprofen. I tried puking it up and it won't come out.
The fun didn't stop here as user @iamcarliiib went to confirm it was indeed an AirPod in her digestive tract with an x-ray, but the funny part was that Apple's earphone, being of the true wireless type, was still operational and connected when she called a friend to tell them about the ordeal.
Consequently, the friend got a voicemail with all the gurgling sounds the AirPod recorded while moving down the line to eventually leave the premises the natural way. Cue the puns.