Vivaldi is world's first mobile browser to introduce two rows of tabs
3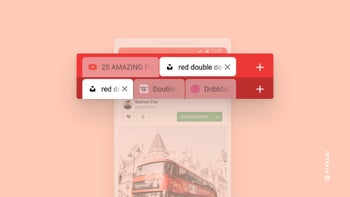 Vivaldi
is trying to appease to as many Android users as possible, so the
most recent update
for the mobile browser brings a world premiere. Vivaldi 5.0 is the world's first mobile browser to offer a "two-level tab stacks" solution. Additionally, Vivaldi's Android browser brings built-in Panels on tablets and Chromebooks, another first.
Back to the "two-level tabs stacks" solution, this has been launched on Vivaldi's desktop browser earlier this year and allows users to manage multiple web pages smooth and easy. Starting today, the same feature but designed for mobile devices, is available for Android users.
To enable the new feature, simply long-press the New Tab button and select "
New Tab Stack
." That should allow you to starting using the new stack/group created, with the current tab and one new additional tab. There's another way to make a group of tabs from the Tab Switcher: drag one tab on top of another to create a new stack.
But this isn't the only new feature included in the latest Vivaldi update. An improved tab interface and new ways to tweak the Tab Bar have been added too. The built-in Notes tool have been enhanced too so that Android users can quickly handle big chunks of text from a webpage to an existing note with an "
Append to Note
" option when highlighting text.
Vivaldi 5.0 is also a big step up for tablet users, as developers have been working to optimize the browser for bigger screens. Apart from a new design, the new version of Vivaldi features a side Panel to make it easier for users to optimize their screen space better on tablets.