Best Sky Mobile phone deals
We may earn a commission if you make a purchase from the links on this page.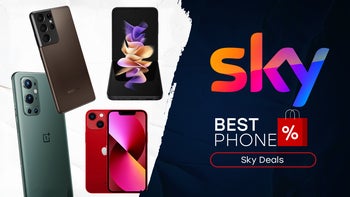 Sky Mobile is a smaller, nimbler mobile virtual operator (MVNO) piggybacking on the O2 carrier's 4G and
5G
network. That means that Sky is benefiting from the same 99% UK coverage that O2 claims. What Sky brings to the table, however, are very appealing deals.
Speed-wise, however, Sky has been shown to not be among the best in the UK, as an OpenSignal measure in 2020 resulted only in 18.2Mb. Despite that, O2 is one of the fastest networks out there, which should generally mean that Sky Mobile can offer good speeds too.
Besides its mobile network, the company also provides TV and landline packages, as well as broadband internet. In general, subscribers to any one of Sky's services also have the option to sign up for another at a special deal. For example, if you are already on Sky's mobile network, then you can get a discount on Sky TV, making this virtual operator a great place to go to if you want more affordable prices.
When it comes to Sky Mobile's contracts, they are pretty simple to wrap your head around. First of all, each one comes with unlimited texts and calls, including rollover data. There is a 24 and 30 months contract plans that pay monthly, as well as a 12-month one that is SIM-only.
But what is rollover data you might ask? Well, simply put, it is whatever data you have not used up throughout the month that piles up each time. In other words, if you don't use all of your data for the month, you will have more available for the next. This is one of the best features that Sky offers to its customers. To throw a little more in the mix, you also don't lose any data when using any of the network's apps like Sky Go, for example.
Unfortunately, you cannot buy a phone from Sky outright, rather, you have to pay it off monthly. Also, there are no refurbished handsets to choose from, only brand new ones.
You can also check out the other UK carrier deal roundups compiled to help you choose:


As a telecom subsidiary of United Kingdom's largest pay-TV broadcaster, Sky has plenty of reach and clout to offer you some unbeatable cell phone deals that put the big carriers to shame. You can check the
best Sky phone deals
below:
Sky phone deals right now
At first glance, Sky's looks like it is the cheaper option when compared to its main competitor, Three. The catch here is that you are signing not a one, not a two, but a three-year contract with the provider. The pay-off is that you can snatch some of the best phones that are currently out at a much lower price!
A nice perk is that after 24 months you can swap the phone for a new one at no extra cost. Sky covers a very eclectic mix of phones, too, from the Fairphone, to Nokias.
It's worth pointing out that all of Sky's plans include unlimited calls and texts.
Best iPhone deals on Sky
If you go for a 75GB data plan when purchasing one of these iPhones from Sky right now, you will get a significant discount. There is also an offer for the 20GB data plan, if you think 75GB is more than you need.
Best Samsung phone deals on Sky
There are large discounts on Samsung phones at Sky at the moment depending on which data plan you go for. Some of these even come with a free pair of Galaxy Buds2 Pro!
Best Oppo phone deals on Sky
You can get an OPPO Find X5 Lite from Sky right now, and there will be a free Oppo smartwatch with it as a gift.
Are the Sky phone deals worth it?
Yes, Sky offers one of the lowest phone prices in the UK as you can keep paying them for longer. Moreover, its plans allow for rollover minutes for up to three years, or for the duration of the contract and the plans can switched each month at will, even when you sign up a term contract.
Can I keep my number if I switch to Sky?

Simply text PAC to 65075 to get your switching code, says Sky, and they'll take care of the rest. You can keep your current number by providing the resulting PAC code to your new carrier. Afterwards you pick a plan from Sky and call or visit them to give them your PAC number and initiate the switch.



How easy is it to switch to Sky?
It's rather easy, since there is a legal obligation for your current carrier to get your PAC number needed to unsubscribe in the span of two hours after you text 65075. After providing Sky with that PAC, they will join your phone to their network very quickly, unless it is a holiday or a weekend, of course.
How good is Sky's coverage in the UK?
Sky offers excellent coverage as it piggybacks on O2's advanced 4G LTE and 5G network. This means that, unlike Three, it would have better coverage in more rural places as well, even though both carriers cite the same 99% UK population coverage, since it is mostly based on downtown and highly trafficked areas.
Still, coverage is a fickle issue so even the best carrier in that regard may not blanket the place where you live or travel most fre`uently, so just get a prepaid Sky SIM card to test the waters before you pull the trigger and switch to Sky.