T-Mobile declared the most reliable 5G network
T-Mobile
just bagged another recognition over the quality of its 5G network, this time for reliability. Its
5G effort already has the widest footprint
thanks to the low and slow, but far-reaching bands it started using first, albeit the
speeds that those offer are often slower than over a robust 4G LTE coverage
.
Now, however, the Un-carrier adds another notch on its 5G belt, as the mobile network testers from
Umlaut
found its budding next-gen network to also be more reliable than those of Verizon or AT&T in their current state.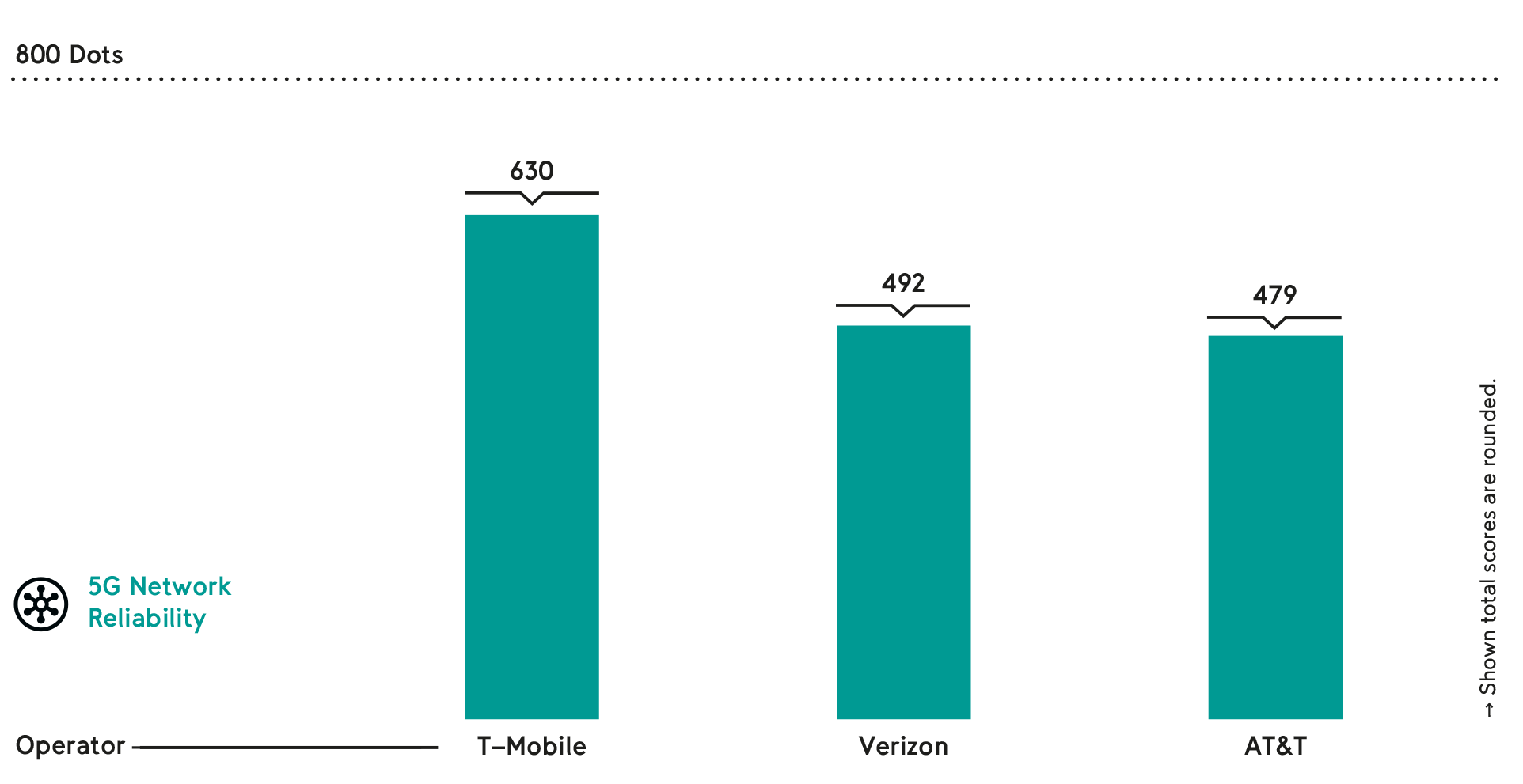 T-Mobile 5G network reliability score
Applying the umlaut methodology, which is acknowledged as the de-facto industry standard in more than 120 countries, the results show T-Mobile in the lead achieving the highest 5G umlaut Score with overall 710 points out of a maximum of 1000, Verizon scores second overall with 599 points and AT&T third with 569 points. In 5G Reliability, T-Mobile also achieves the strongest score with 630 out of a maximum of 800 points, Verizon follows on the second rank with 492 points, AT&T ranks third with of 479 points.
The 5G umlaut Score shows the overall 5G user experience in the categories Coverage, Speed and Latency. For 5G Reliability, the relevant key performance indicators (KPIs) in 5G Coverage and 5G Speed were taken into account: The 5G Coverage Reach – showing in which part of the overall footprint 5G was seen; the 5G Connection Share - showing how many of a 5G user's data speed samples included 5G; the DL Speed – showing how many speed samples are good for supporting popular services like basic internet, HD Video and UHD Video.
Here we have to point out that the results are crowdsourced, and that methodology usually tends to favor network performance in big cities and downtown locations, but still, there is every indication that T-Mobile is building 5G fast, and it is building it right. It has to, as when it comes to the most used 4G LTE standard it has a lot of catching up to do in terms of coverage and network performance, so it is placing all its bets on the future.
Recommended Stories