It finally happened: a smartphone with two notches has arrived, destined to haunt the Asian market
19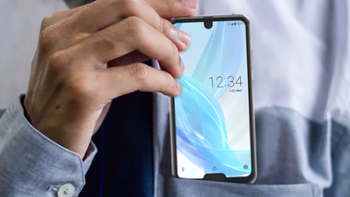 People have been joking about a double notched smartphone ever since the first models with the notorious display cutout were announced. It was only a matter of time before someone decided that a notch on the bottom is not as bad as it sounds, and now our worst fears have manifested into reality.
The device is called the
AQUOS R2 compact
and is coming from Sharp,
The Verge lets us know
. If the design makes you look the other way, don't worry, chances are you'll never lay your eyes on one in the flesh, as its release will be limited to Japan and possibly other close-by countries. Still, though, such an unusual device is worth taking a closer look at, no?
As is tradition, the top notch is housing the front facing camera and in the R2 compact it's a minimalist one similar to the
Essential Phone
's. Meanwhile, the bottom one is needed because Sharp wanted to keep the front mounted fingerprint sensor but add more screen real estate to the device. While the asymmetrical notches make us shudder, we can't blame Sharp for the decision to add some more pixels to the front panel, as the R2 compact has an appropriately small 5.2-inch display.
The size doesn't stop the display from having an impressive 2280x1080 resolution and offers not only 120 Hz touch-sampling, but a 120 Hz refresh rate as well (Sharp is likely the provider for the
Razer Phone 2
displays that have the same refresh rate). Inside you can find the Snapdragon 845 system chip paired with 4 GB of RAM and 64 GB of storage, all of that running Android 9. The battery is a smallish 2500mAh one despite the device being on the thicker side at 9.3 mm (
iPhone XS
is 7.7 mm).


With manufacturers offering pretty much no small form factor high-end phones, leaving this market segment rather empty, can we see a similar device coming to the west? With the latest in-display fingerprint technologies and edge-to-edge displays, we hope that the time for the small flagship phone to come back is near. We don't mind waiting as long as we can avoid the dreaded second notch.