Samsung Gear S4 wireless charger gets certified
3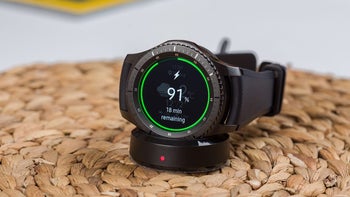 Speaking of the battery, the Gear S4 has now gotten its wireless charger certified in South Korea, the listing for which also confirms the model number for the Gear S4 'Frontier'. According to
SamMobile
, the Korean Radio Research Agency (KRRA) has certified a wireless charger with model number EP-YO805, which corresponds to the alleged SM-R805 Gear S4 model number that was recently revealed. This seems quite possible, given how the model number of the wireless charger for the
Gear S3
was EP-YO760, while the smartwatch itself carried model number SM-R760.
Unfortunately, the document does not contain any images of the device itself, as is the case with most all certification listings, but it will likely be a similar affair to the Gear S2 and Gear S3 wireless chargers. That is, a small magnetic stand that the watch securely snaps onto.
Since the Gear S3 and
Gear Sport
offered excellent battery life — each managing to last an average of two days on a single charge — we've got our fingers crossed that the Gear S4, with its beefed-up battery, will fare even better than its predecessors. We'll have to wait and see, though, but at least there's not a lot of waiting left, as the Samsung Gear S4 is expected to be officially unveiled in the coming months.
ALSO READ: