How to link the Galaxy Note 10 to a Windows computer – notifications and messages on your PC!
2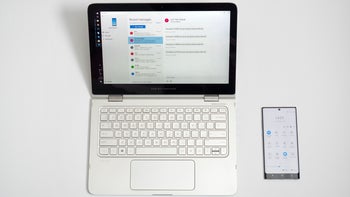 Apple users have always had the benefit of a unified ecosystem and continuity between their iPhones and Mac computers. Android users haven't been as lucky, though in recent years Samsung has started paying greater attention to the connectivity between smartphones and computers. Starting with Samsung Flow in 2017, Galaxy phone users could wirelessly link their devices to Windows, allowing them to view notifications, reply to messages, take advantage of a universal clipboard, and even project their phone's screen on the computer for direct access.
But Samsung and Microsoft are starting an even tighter partnership this year, and with the introduction of the Galaxy Note 10, we get a new "Windows Link" service built right in. It is a more advanced and convenient way to establish continuity between the Note 10 and a computer running Windows, and allows you to get instant access to notifications, messages, and even photos. Right from Windows, without ever lifting your phone up (say, from the wireless charger).
Here's a quick guide on how to set up Windows Link on your Galaxy Note 10, followed by some of the neater features that that the service has to offer:
Setting up Windows Link on your Galaxy Note 10
1.
Pull down on the notification shade and tap "Link to Windows"
2.
Sign in with the same Microsoft account that you are signed in with on your computer
3.
On your computer, download the "Your Phone" app from the
Microsoft Store
4.
Launch the Your Phone app on your computer and tap "My PC is ready." Should you need any help with the sign-in procedure, tap "Show me how."
That's it, now your phone and Windows computer are linked! Here's some neat features that you can take advantage of:
Read notifications on your computer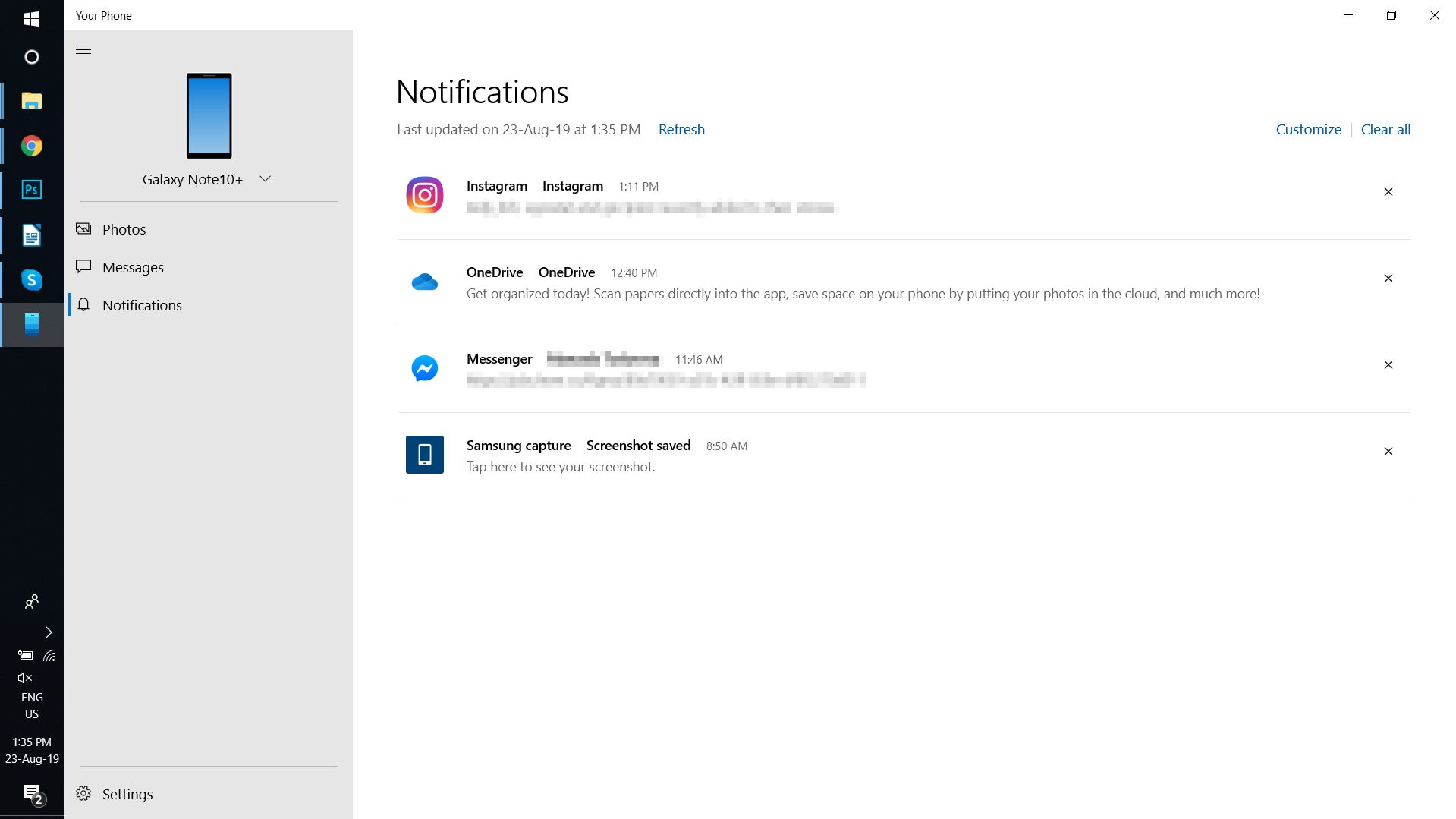 With Windows Link, notifications are synced between the Note 10 and your computer. When connecting for the first time, select the "Notifications" tab in the Your Phone app and select "Open Settings for me" to display the Notification access settings on your phone. Find Your Phone Companion in the list of apps and allow notification access for it. When you're done, incoming notifications will be displayed on your computer.
Depending on the type of notification, there are different actions that you can perform. For example, you can reply to incoming messages in apps like Facebook Messenger and Viber. You can also clear notifications one by one or all at the same time, just like you can on your phone. If you find the notifications spam overbearing, you can filter which apps you want to see notifications from on your computer by clicking on "Customize" in the Your Phone app.
Read and reply to messages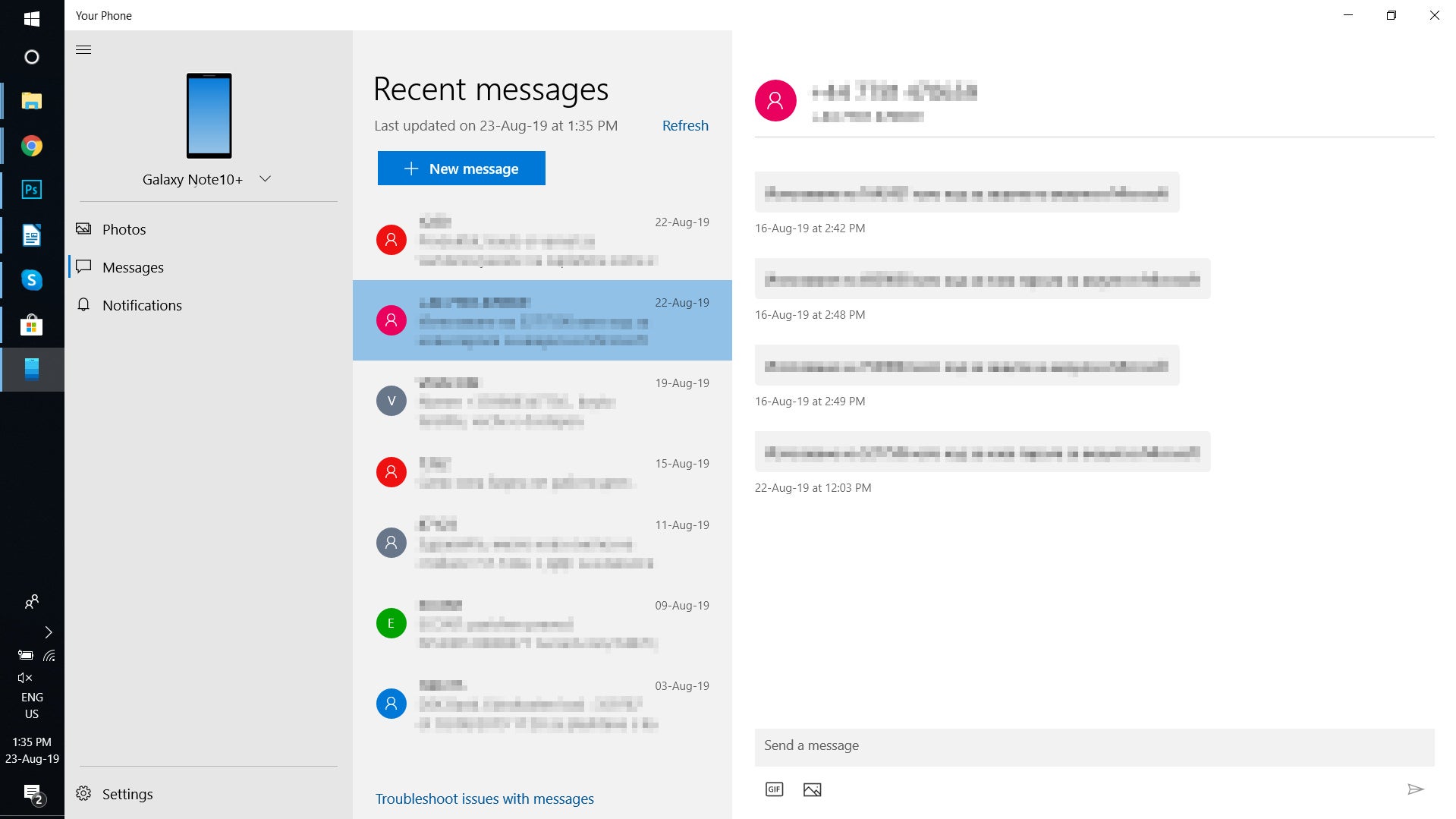 By selecting the "Messages" tab on your computer, you'll get access to messages on your Note 10. From there, you can read, reply to, and create new messages. You can also send MMS attachments, including pictures and GIFs, though keep in mind that this is not an online messaging app, so carrier charges will apply.
View and share photos
Select the "Photos" tab to get access to images on your Note 10, including photos and screenshots. Keep in mind that the number of available images is currently limited to the 25, but it may expand in future updates. From this screen, you can easily view photos on your computer, by double clicking them; save them to your computer, by selecting "Save As" from the right click menu; or share them, again from the right click menu.
Unfortunately, as of yet, you can't send images from your computer to the Note 10. This was previously possible with Samsung Flow, so we'd wager a guess and say that it will be enabled in Windows Link as well, come a future update.

Control the Note 10 directly from your computer (upcoming)
Samsung Flow allowed you to directly access any connected devices from your computer, which was a mighty convenient feature. All you had to do was click on "Smart View" and your phone's screen would appear in a separate window. You could then freely interact with it using your mouse. This functionality is still not present in Windows Link, but a new promotional video from Samsung suggests that it is on the way.
In the video (embedded above), you can see that there's a "Phone Screen" tab in the PC companion app. It is still not available in the version you can download from Microsoft's store, but it is likely on the way. When it rolls out, you'll be able to see your phone's screen on your computer and, possibly, interact with it.
Keep in mind that Windows Link was released just recently, so it's far from its final form. Samsung says that the roster of features will expand considerably in upcoming updates.