Samsung announces much-needed enhancements coming to its AI assistant Bixby
1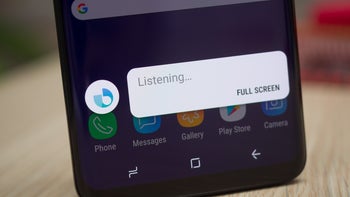 AI assistants have become a significant part of our phones, with some of them being better than others. In Samsung's case, this virtual assistant is called Bixby, and until now it wasn't exactly considered to be in the lead compared to what Google or even Apple offer.
Today, however,
Samsung
announced that it is bringing some significant and much needed upgrades to Bixby, in the form of a software update that will be rolling out by the end of February. The improvements should serve to level up the performance and capabilities of the AI assistant, as well as the user experience by enhancing the language recognition it is capable of and the user's control over it.
What's new with Samsung's Bixby?
More customization options
Samsung's offers something called Bixby Text Call, where the assistant converts whatever the user types to audio and communicates it to a caller they are on the phone with. This feature was not available in English, but with this update it now will be.
The Bixby Text Call voice can also be altered using a new custom voice creator with which users can record multiple sentences for Bixby to analyze and create an AI generated copy of their voice and tone. That way when the caller is getting these converted to voice messages, the voice they will be hearing would be yours. And that's without the need for you to speak.
Additionally, you will now be able to customize the phrase with which you want to wake up Bixby, something that was bizarrely missing up until now.
Smarter and more versatile
One of the best things that's happened in the last few years with AI assistants — well, at least on the Android side — is their ability to take follow up questions. The Google Assistant was the first to adopt this feature, but now Bixby is also getting it thanks to this update.
Bixby can now understand context and intent and take them into account before replying to you or carrying out a command. For example, users will be able to tell Bixby to launch a specific workout on Samsung Health, and then tell it to play music that is appropriate for this exercise.
Better on-device (offline) functionality
Put simply, Bixby will now have more resources to work with even when your device is not connected to the web. Commands such as turning on the flashlight, taking a screenshot, setting a timer, etc. will now be possible no matter what. Frankly, this should have been possible much earlier in Bixby's "life" but it's nice to know that Samsung phone owners will finally get a more capable offline experience with Bixby.
A few caveats
Some of these features will be available to specific devices only. For example Bixby Text Call is said to work with "selective models including Galaxy S23, S23+, S23 Ultra, Z Fold4, and Z Flip4." Your phone also has to have One UI 4.1.1 or newer for the Korean language, and One UI 5.1 or later for English. The custom voice feature related to this is available only to devices running One UI 5.0 as well.
Also, there are 8 new scenarios including that one with the music/workout, but all of them are currently only supported in Korean. Samsung says they will get support for more languages though.