Realme has cloned Apple's MagSafe and made it faster
3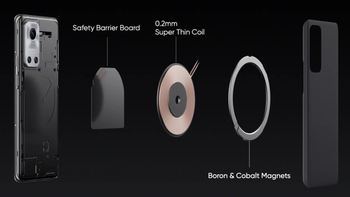 The introduction of MagSafe on the iPhone 12 created a new ecosystem of accessories and tried to make wireless charging a more mainstream feature. Now, Oppo-owned brand Realme is cloning it.
Meet MagDart, Realme's faster MagSafe clone
Realme has announced a MagSafe alternative for its Android smartphones that's marketed under the MagDart name and includes six products at launch: two chargers, a wallet, and a few other accessories.
Kicking things off with the chargers, the standard 15W MagDart Charger resembles a slimmer version of Apple's MagSafe puck. As the name indicates, it supports 15W wireless charging, which Realme says is enough to fill a 4,500mAh battery in 90 minutes.
If that doesn't cut it, Realme has also unveiled a 50W MagDart Charger. It's much larger and bulkier than the mainstream option, thanks in part to the presence of a cooling fan. When plugged into Realme's 65W SuperDart wired charger, it can output 50W charging speeds, enough to fully charge a 4,500mAh battery in 54 minutes.
Chargers aside, Realme has also created an alternative to the MagSafe Wallet that
Apple
introduced alongside the iPhone 12. The
MagDart Wallet
is made out of leather and can hold three credit or debit cards. It also includes an aluminum kickstand, so you'll be able to prop up your phone on a surface.
Additionally, the brand will be selling a 2-in-1 MagDart Power Bank. It's similar to the recently announced MagSafe Battery Pack, with the main difference being that Realme is throwing in a kickstand.
The final two accessories on offer include a MagDart Case and MagDart Beauty Light. The latter is powered by reverse MagDart charging and includes a ring light for selfies, while the former is a dedicated case with a layer of MagDart magnets and a full-function USB-C port.
Over the coming months, third-party accessory makers are likely to take advantage of MagDart. Apple's implementation has led to the creation of several
iPhone 12 MagSafe accessories
including compatible car mounts and even dedicated PopSockets.