Qualcomm outs frugal Snapdragon X75 5G modem with mmWave integration
1
Qualcomm just unveiled its next 5G phone modem generation dubbed the
Snapdragon X75
as an upgrade to the existing Snapdragon X70 that is still barely making the rounds in phones like the Samsung Galaxy S23 series. What's new?
The first unified 5G architecture has less of a power draw which will bode well for your phone's battery life. In the Snapdragon X75 modem RF system, mmWave and Sub-6 are now in one transceiver, allowing Qualcomm's next generation modem to cover the entire 5G spectrum, including Snapdragon Satellite, with 20% less toll on the battery.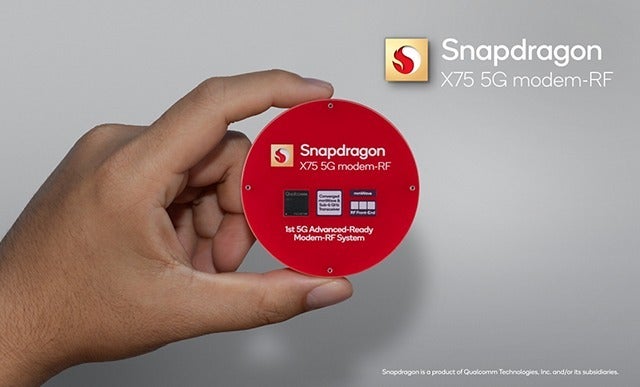 The new Snapdragon X75 modem
Moreover, the unified mmWave transceiver means that there won't potentially be differences between modems on phones made for Verizon or, say, T-Mobile, but they will all come with ultrafast mmWave connectivity. As for all the other new Snapdragon X75 5G, Qualcomm lists them as follows:
World's first 10-carrier aggregation for mmWave, 5x downlink carrier aggregation and FDD uplink MIMO for sub-6 GHz bands, which allow for unparalleled spectrum aggregation and capacity.
Converged transceiver for mmWave and sub-6 paired with new Qualcomm QTM565 fifth generation mmWave antenna modules reduce cost, board complexity, hardware footprint and power consumption
Qualcomm Advanced Modem-RF Software Suite further improves sustained performance, across user scenarios including elevators, subway trains, airports, parking garages, mobile gaming sessions and more.
AI-based sensor-assisted mmWave beam management for superior connectivity reliability and AI-based location accuracy enhancements.
Qualcomm 5G PowerSave Gen 4 and Qualcomm RF Power Efficiency Suite for extended battery life.
Qualcomm DSDA Gen 2 support enabling 5G/4G Dual Data on two SIM cards simultaneously.
Qualcomm Smart Transmit Gen 4 to allow for fast, reliable and long-range uploads – and now including support for Snapdragon Satellite.
As per Durga Malladi, senior vice president and general manager, cellular modems and infrastructure, Qualcomm Technologies:
The Snapdragon X75 Modem-RF System demonstrates the full breadth of our global 5G leadership, with innovations such as hardware accelerated AI and the support for upcoming 5G Advanced capabilities, which unlock a whole new level of 5G performance and a new phase in cellular communications.
The newest Snapdragon X75 5G modem is currently sampling with customers, says Qualcomm, "
with commercial devices expected to launch by the second half of 2023
," which means that we can test its performance out in the wild pretty soon.