Don't miss your chance to get these paid Android games free of charge!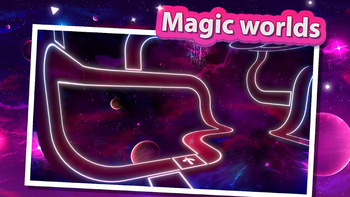 Are you looking for some neat new games to play on your Android smartphone? If that's the case, you might be pleased to hear that several titles that are usually paid are now available for free on Google Play.
This collection features several different genres, so we've made sure to include a video (where available) or gameplay image and a description below each title in order to aid you in the selection process.
Also, make sure to check out the end of sale times for each game next to the respective download link. At the time of writing (March 25th), some of these titles only have a few hours left in their "freebie" period, so it's advisable to download anything that you like fast. Without further ado, let's see what's on the list!
Gravity Quest - Magic Maze
Gravity Quest will take you for a ride in a world of surreal 3D labyrinths. This is a fantastic puzzle game that plays out from the first person. To pass a level, you'll have to locate portals and teleportation devices. There are a total of 12 large maze stages that are located in 4 distinctive worlds. The controls are quite easy. Overall, the title is quite chill, as there are no time limits to pressure you. The feeling of relaxation is further intensified by the meditative soundtrack.
Reed
If you love platformers that take you back to the good old times, Reed will certainly not disappoint. In Reed, you take the role of a tiny creature that has been created by an old supercomputer. Your creator is about to die as he has lost his magical cubes (yeah, we know), and your only hope of survival is to find them and bring everything back together.
This is a fairly standard platformer, as you are required to jump over various obstacles to reach the next stage. Some of the levels are quite challenging, which will certainly appeal to hardcore gamers. In any case, we're sure that the lovely pixel art and retro soundtrack of Reed will hit you right in the nostalgia gland.
HEXASMASH - Wrecking Ball Physics Puzzle
Hexasmash 2 is the work of the developer behind the famous Laserbreak 1 and 2 titles.
If you've played one of these, you'll find out that the concept of Hexasmash 2 is pretty similar. It's a physics puzzler game where you have to shoot balls in order to destroy all the blue hexagons. Do this, and you pass to the next level.
Naturally, there are tons of levels and physical objects to interact with, making this a great time killer that will also challenge your logical skills.
CELL 13
CELL 13 is a "physics puzzle" title, featuring 13 big levels and over 65 unique puzzles. If you've ever got the chance to play Portal 2, this game feels a lot like it, although the action plays out from a different perspective.
Use crates, balls, glass, elevators, laser bridges, and portals to navigate through the levels. Individually, these objects may not be useful, but when used together with your creativity, you may find a solution to escape the cells.
Curious about what's it like to be a hacker? If so, give this game a try! The Lonely Hacker is an open-world indie hacking sim game where players can choose to ply their trade in many real-life countries.
Countries have varying ranks of security levels and internet speeds that loosely correspond to their state of development in real life. After choosing where to start, you head to your hacking QH to get various hacking missions. Complete them, and you'll get rewards. After that, you can use the money collected to upgrade your PC or purchase gear for more challenging missions. You can choose to start somewhere easy to get the hang of things, but the big money rewards are in the most advanced countries.
The game is still in a state of development, but the creator is pushing out frequent updates with new content. There are no apps or in-app purchases to distract you while you're playing.
League of Stickman 2019 is a side-scrolling hack and slasher that's quite fun to play. You can choose between many different characters, each with their own unique style of slaying the enemy. Advancing through levels increases your stats, and allows you to collect items and unlock additional heroes. There's a normal mode and a separate boss mode that's quite hardcore.
A nifty feature of this hame is the multiplayer mode - you can connect and play with a friend through Wi-Fi or Bluetooth. Keep in mind that the game does include a fair bit of grinding, but at the end of the day, most of these action RPG titles are centered around this concept.
Orbt XL is an endless and fast-paced arcade game that gets more challenging the longer you survive. You play as a planet that is orbiting around a black hole. Your goal is to stay in orbit while avoiding obstacles. If you come too close to the black hole, you get sucked in and it's game over.
The title features simple one-touch controls but you'll need to practice if you want to survive for a decent amount of time. The closer you orbit to the black hole, the more points you'll accumulate, but you won't have an easy time dodging everything that gets drawn to the black hole.
Ding Dong XL is an endless, fast-paced, and challenging arcade game that gets progressively harder. You need to "Ding and Dong" between the top and bottom of the screen as you attempt to avoid obstacles, collect points, and smash helpful power-ups. Try to survive as long as you can! The title features one-touch controls that are super easy to learn. The only thing you need to worry about is not hitting the obstacles. There's even a dual mode that allows you to play with two buttons for a brain-bending new challenge.
Night Survivor PRO
Last Light is an adventure/survival game with some pretty interesting graphics. The story narrative is rather typical - you are one of the last survivors on Earth after a zombie apocalypse has occurred. One day, you find a walkie-talkie and hear the voice of another survivor who begins to guide you to their safehouse. There are more than 28 levels here, and most of these involve locating and grabbing a certain item. Be careful, though, because at night, the zombies come out and you'll have to find a safe place to hide.