Vodafone's VOXI now offers 30GB of data and endless video streaming for only £12 a month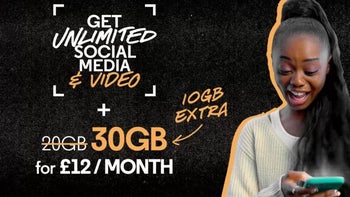 VOXI, which is a sub-brand of Vodafone, has launched a new offer that will surely excite mobile users across the UK, especially if they watch movies, TV shows, and videos on the go.
As Vodafone announced in a new
blog post
, new and existing customers can now enjoy unlimited calls, texts, and 30GB of 5G data allowance for only £12 a month. Furthermore, the plan now includes endless data for streaming video content.
This means that you will be able to binge-watch your favorite shows on Netflix and Amazon Prime Video and watch funny videos on YouTube and TikTok without worrying that you will deplete your data allowance. The plan also gives you unlimited data for Facebook and Facebook Messenger, Instagram, WhatsApp, Pinterest, Snapchat, and Twitter, so you can chat with your friends without thinking about your data.
However, you will need to act fast if you are interested in this promotion, because it ends on March 30, 2023.
If you haven't used VOXI before, you should know that its plans are designed to be flexible and don't require a contract. They are basically monthly subscriptions that you have the freedom to cancel or modify at any given time.
However, this promotion from VOXI is only for a SIM-only plan. So if you are in the market for a new smartphone, this offer probably isn't for you. And if this is the case, you can check out our
best Vodafone phone deals
, where you can find amazing deals on some of the best smartphones on the market.