Mystery logo on back of Pixel 3 XL prototype belongs to Google
10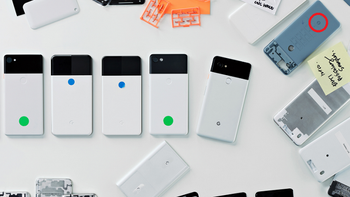 As it turns out, that strange logo (which resembles a stylized "E" looking in a mirror) actually belongs to Google! As proof, we can look at a photo from Google's internal blog called
The Keyword
. Accompanying a story published earlier this year about Google's design team, is a photo showing early versions and prototypes of certain Google devices. In the corner appears a
Google Pixel 2
prototype in a color that appears similar to the popular "Kinda Blue." And if you look at the back of the prototype, you'll see a logo quite similar to one on the
Pixel 3 XL
prototype. The only difference is the lack of a gap on the bottom of the logo found on the unfinished Pixel 2.
This should be enough proof to believe that the
Pixel 3
XL seen in the photos we've passed along to you the last couple of days, is legitimate. And besides the logo,
the screen clearly mentions "crosshatch,"
which is one of three fish-related codenames that the new Pixel models have been given. As we pointed out yesterday, if the Pixel 3 XL is crosshatch, and the mid-range unit coming early next year is "bonito," the Pixel 3 is "blueline."