Nothing says "I love Apple" like $400 custom-painted AirPods
8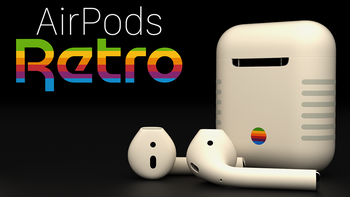 ColorWare, a company that specializes in custom paint jobs and skins for tech products, has added a new paint option for
Apple's AirPods
. The new design is called "AirPods Retro" and is based on the style of the original Apple IIe, the predecessor of the first Macintosh.
Besides the base color, called Pantone 453 (basically light beige), the two "features" added are the faux vents on the side of the box and the sync button painted in the rainbow colors of the original Apple logo.
As you have probably guessed, the shocking price includes a pair of brand new AirPods, so even if you were willing to spend $240 ($399 - $159, the price for a pair of AirPods) just for a paint job, that's not an option. This design will be available for a limited time only, in case you are considering them.
While all the distinct design elements are on the box itself, Apple aficionados might appreciate the subtle uniqueness of the retro color on the AirPods themselves. If you want something more noticeable, you can go for their other color options. For "just" $299 (add another $40 if you want the box painted as well) they will generously allow you to choose one of 16 different colors for each bud.
Even if you are looking to buy AirPods and willing to spend that much to stand out from the crowd, you are probably better off waiting a few months for the next generation AirPods, that are likely to be released in September. ColorWare will surely have options for them as well.