LG V40 press render leaks with hidden notch, confirms triple camera
18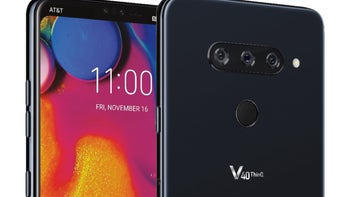 Recent leaks of the LG V40 ThinQ have left many fans with mixed emotions. Is it really going to have a notch? A triple camera on the back? The answer to both these questions is "yes", but wait, the V40 actually looks quite sleek. No better way to convince you than taking a look at this official press render of the LG V40, freshly leaked by esteemed tipster Evan Blass (@evleaks).
The render depicts an AT&T version of the LG V40 ThinQ and offers us a look at both the front and back of the device. Curiously, the notch seems to be "hidden" in this image, with a black bar running along the top bezel of the phone. However, you can clearly see the AT&T logo and an NFC notification in the thickened status bar.
Around the back, there's the long-rumored triple camera setup. Unlike other phones with three main cameras, such as the Huawei P20 Pro and the Samsung Galaxy A7 (2018), which have their cameras arranged vertically, the LG V40 bets on a horizontal camera setup. This won't really make a difference, rather than make the V40 stand out a bit more.
Other than that, the new press render reveals an extra button on the LG V40 ThinQ, which is likely used to summon Google Assistant on a whim. The LG G7 also had a dedicated Assistant button, and seeing as how the company is all about AI these days, it wouldn't be too far-fetched to assume that this hardware feature is going to become a mainstay in its flagship smartphones.