iPhone popular among young and old
5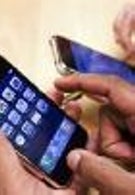 It might seem that the average iPhone user is a young, tech-minded person who uses features like SMS and mobile Safari to stay in touch with friends or surf the social networking sites. When not staying in touch with his buds, you would assume that the typical user is checking out the App Store, looking for games or other fun downloads. But a new survey done by Nielsen Wire shoots down the stereotype of the typical user of Apple's touchscreen device.
According to Nielsen, the number of users in the 13.-24 age group nearly equals the number of users age 55 or over. While 18% of those using the iPhone fall into the former bracket, 17% belong to the latter age group. Equally surprising is that the largest number of users, with 36% of the total, can be found in the 35 to 54 year old range.
Other interesting stats show that 88% of the handset's owners use the internet, 75% download apps, 72% use location-based services and 37% watch video. And iPhone users are also more well off than the average cellphone owner as 40% have annual income of $100,000 or more vs. 19% for the average mobile phone owner. So if you own an iPhone, odds are that you are doing well, even in the current economy.
source:
mocoNews
via
Mobileburn