iPhone app may contain clues leading to £2,000 worth of gold hidden somewhere in the UK
4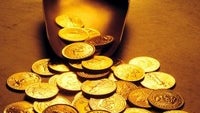 Back in 1979, English writer Kit Williams sparked what is today regarded as one of the greatest treasure hunts of all time. How did he do it? Well, by burying a 18-karat golden hare somewhere in the U.K. and hiding all the clues leading to its location within the illustrations of his book Masquerade.
Inspired by Williams' ingenuity, British software development studio Candid Innovations has decided to come up with a treasure hunt of its own with the reward being £2,000 worth of gold sovereigns. According to the video, which the company has just recently released, the treasure is buried at an undisclosed location on the territory of the U.K., and
the clues leading to it are all hidden within an iPhone app
.
Now, there are only two iPhone applications currently in the company's portfolio – The Grapevine, which helps music fans find concert tickets, and Ultimate Air Guitar, which we shouldn't really explain what it does. It is almost certain that the application that will mark the beginning of the treasure hunt has yet to be released.
This is pretty much all the information that we have so far, but further details about the treasure hunt are probably going to surface in the near future. Until then, feel free to check the video below. Who knows, perhaps it could contain a hint as well?