iPhone X resellers beware! Transaction may leave you with broken bones
32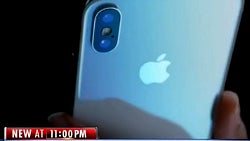 The
iPhone X
is expensive and in demand, too, as Apple barely manages to
make enough of those
to satisfy the initial rush of early adopters. That is why when David Stowers decided to flip his unit for $1300, he chose the well-lit dining area of a Publix grocery store, with the resulting security cameras and plenty of people around.
Still, this didn't stop his potential buyer, one Kievian McGhee (not his real name, it turned out) to try and run with the loot a few seconds after he got the box for inspection. Thankfully, an automated shop door didn't open quick enough, so the iPhone X owner managed to catch up and get into a fight for Apple's latest and greatest. The thief, however, slammed David Stowers to the ground, breaking his collar bone in the process, aided by his getaway driver Michael Rogers who flew in, and ganged up on the iPhone owner together with McGhee.
At that point in the kerfuffle, the store manager and a shopper managed to kick in and get a hold on Rogers and McGhee so that they release Stowers, but apparently they were only arrested later on. The culprits now face various charges, David Stowers faces broken bones recovery, but it's not clear if there is a "no iPhone X was harmed" disclaimer in the whole story.