iPhone Siri tells a 12-year-old kid to "Shut the f*** up"
30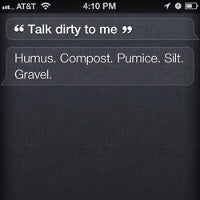 Siri, your humble virtual assistant might have turned out not so humble after all. Charlie, a 12-year-old boy reportedly asked Siri running on an iPhone 4S a question and got the following answer:
"Shut the f*** up, you ugly t***."
His mum came over and couldn't believe what she heard either.
"The phone was a demo version and was low enough on the shelf for Charlie to have a go with it. He asked it a simple question and we couldn't believe the filth it came out with,"
the mother commented.
"I thought I must be hearing things. So we asked again and the same four-letter stuff blared out."
The unit was later removed from the shelf of the UK Tesco store and reportedly sent for diagnostics over to Apple, but it seems like someone has
tinkered with the iPhone 4S
on display to reprogram and change Siri's usual behaviour. Charlie's mum quickly pointed out that the phrase was
"verbal abuse"
but isn't this a bit of an overreaction? What's your take on that?