iPhone SE cases by Spigen: hands-on review
9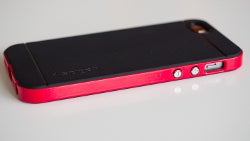 While we ourselves are not big on smartphone cases,
the majority of our readers said they do in a poll from early 2014
. We can only imagine that this is still the case, and will continue to be. Having messed up more than a few devices ourselves—some of them quite expensive—we certainly understand and appreciate the need to protect your shiny new toy.
Better yet, accessory makers these days go to quite the lengths to ensure that you can still sneak a look at the design of your phone, but still have it protected thanks to translucent cases. And some makers spent quite some time designing their solid cases to make sure you slap on an attractive shell that won't cheapen your device. Spigen was nice enough to send us a few of its iPhone SE cases for inspection, and here's what we thought about each in turn:
Spigen Wallet S
MSRP: $24.99
Dimensions: 2.66 x 5.16 x 0.62 in (67.6 x 131.1 x 15.7 mm)
Colors: Black
It's rare that we get to see a traditional wallet-type case in the flesh these days, but Spigen is making sure it's covering all its bases. The Wallet S for the iPhone SE combines all the expected features of the category, but moves the needle with some clever engineering.
Deceptively genuine leather-like, the Wallet S is nevertheless made out of pleasantly soft, synthetic leather and an interior plastic shell that holds the iPhone SE in position. Up front, you have a cutout for the earpiece if you wish to take calls with the cover closed, while a magnet within the flap ensures that it stays in position. In fact, the magnet works both ways, meaning you can notch the flap at the rear, which comes in handy when you kick back and use the included stand position for watching video or what have you.
As with any self-respecting wallet case, Spigen's offers room for two credit cards. Below these two, there's another compartment that is large enough to fit notes. In our experience, at least at first, you'll have a hard time putting two cards in and then some cash underneath, but over time the leather should loosen up.
All said, we're not big on wallet-type cases, but this one is well thought out. Still, access to the volume rocker and the mute switch is rather awkward, as you need to open the front cover and then awkwardly reach for either.
Spigen Crystal Shell
MSRP: $19.99
Dimensions: 2.47 x 5.00 x 0.41 in (62.7 x 127 x 10.4 mm)
Colors: Clear Crystal, Rose Crystal
While we would have been happier with Apple if they at least updated the looks of the iPhone SE, it's undeniable that it's still one heck of an attractive smartphone. If you share that opinion, you're probably also a fan of see-through, translucent cases—just like the Spigen Crystal Shell.
Having passed the MIL-STD 810-G Drop Test successfully, this is a case that will shield your phone while mostly staying out of the way. The shell is made out of noticeably hard plastic, with Spigen's Air Cushion technology available. In layman's terms, this means pockets of air at the four edges of the phone will further help mitigate any possible damage. The same goes for the raised lip at the front, which will protect the screen if face down, while inconspicuous 'legs' prop up the case to keep the back free of scuffs and dents.
At $19.99, it's an altogether very reliable-looking choice, though we're not big fans of the covers for the power and volume keys. Those are rather rigid and will require extra pressure to work, not to mention Spigen could have done a better job in terms of tactile feedback.
Spigen Style Armor
MSRP: $24.99
Dimensions: 2.50 x 5.01 x 0.42 in (63.5 x 127.3 x 10.7 mm)
Colors: Mint, Rose Gold
Barely any bigger than Crystal Shell, the Spigen Style Armor is nevertheless an entirely different concept. Made out of plastic, there are actually two pieces here, with the bottom easily sliding out to let you slide in the iPhone SE in return, snug and secure. The 'cap' on bottom then slides into the base, completing the circle. Thankfully, that same base has chamude lining the inside, protecting the back of your iPhone SE from damage through friction between it and the shell. A lip up front does a similar job for the front, keeping the screen away from flat surfaces and free of scuffs.
Access to all ports is obviously provided for, and we're happy to see that despite the tough, matte exterior, tactile feedback and travel times for the volume rocker and power key are up to snuff and require little extra exertion to work. Our only complaint is that the specific gold color accent chosen for the Mint model is probably a bit of a stretch aesthetically. You're free to disagree, of course.
Spigen Rugged Armor
MSRP: $19.99
Dimensions: 2.47 x 5.03 x 0.40 in (62.7 x 127.8 x 10.2 mm)
Colors: Black
If you're rocking a Space Gray iPhone SE and appreciate matte black, the Spigen Rugged Armor is a great choice. Made out of flexible thermoplastic, the case features Spigen's Air Cushion technology and is MIL-STD 810-G certified for drops and even shock. Up front, a lip raises the screen away from flat surfaces to protect against scratches.
Towards the back, the top and bottom portions feature glossy carbon fiber-like accents, which combine well with the matte black of the case. There are no legs to prop up the case and spare it from scuffs when laying flat on the table, but the camera lens and flash opening are sufficiently retreated to spare them at least.
Overall, ergonomics are great with this case, and even the volume rocker and power key are easy to work and not too rigid. The matte finish, however, is obviously on the slippy side, but not to an extreme. A great pick overall, and our favorite.
Spigen Neo Hybrid
MSRP: $29.99
Dimensions: 2.50 x 5.07 x 0.39 in (63.5 x 128.8 x 9.9 mm)
Colors: Dante Red, Gunmetal, Satin Silver, Metal Slate, Champagne Gold
If you're looking to draw attention to your smartphone, Spigen's Neo Hybrid in Dante Red is a sure way to get it. A two-piece case with flexible thermoplastic shell and a hard polycarbonate frame, the case is MIL-STD 810-G certified for resistance to drops and shock, with the outer frame supposedly serving to disperse incoming stress from drops and such. As other Spigen cases, the front lip protects the screen from scuffs.
At the back, we've got a matte, patterned texture, which is advertised for its grip, but we feel otherwise. The Neo Hybrid feels more slippery than other Spigen cases. Covering the volume rocker and power key are metalized caps that provide great tactile feedback and are easy to work, making you forget they're there.