iPhone Bluetooth Headset is discontinued by Apple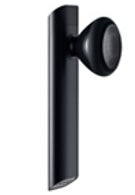 There are people who claim to see the Virgin Mary in their mashed potatoes. Those are the kind of thinkers that might read more into Apple's decision to stop selling the Bluetooth Headset that has been offered for Apple's touchscreen device ever since the first-gen version was introduced in June 2007. Back then, the headset was offered for $129 bundled with a Bluetooth Travel Cable and a Dual Dock that would recharge both the phone and the accessory. In 2008, the price was slashed to $99 at the same time the 3G version of the phone was released. The Dock was no longer included as Apple had discontinued the item. Fans of the Bluetooth headset raved over its easy set-up and slim design while there were those who crticized the device's drain on battery life, limited range and the absence of voice controls.
On Apple's web site, the item has been listed as discontinued since Saturday although it can still be added to your shopping cart. Now the question is, why would Apple stop selling an accessory for the iPhone?
source:
Apple Store
via
AppleInsider