iPhone 8 won't be delayed due to OLED supply shortage, Samsung to start production on schedule
40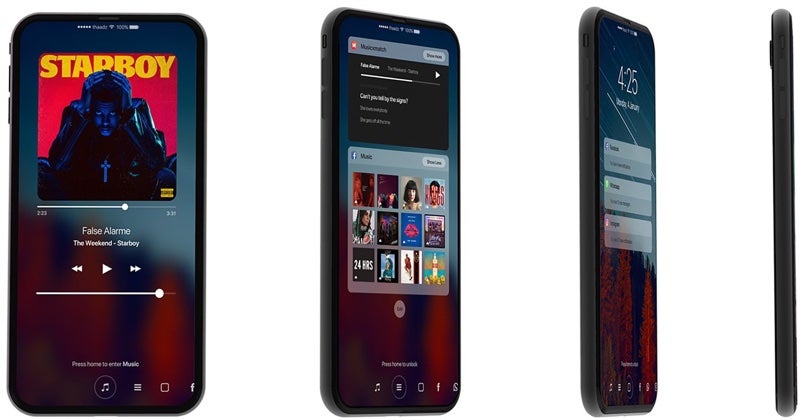 iPhone 8/X concept image
Samsung Display is expected to start the production and shipments of OLED panels for the iPhone 8 without any delays, according to
The Bell
.
The media's latest report reveals that Samsung's display division will place orders for key panel components by the end of this month. This way, panel assembly can start in May and shipping can commence in early June, which is
right on schedule
.
The latest information is in stark contrast with earlier rumors which indicated that Apple's first OLED iPhone could be delayed by a few months due to supply shortages. Sources within the industry say that the concerns over the panel output might have been
deliberately exaggerated
in order to create fake news.
As you may know, Apple is widely rumored to introduce 3 iPhone models for 2017, with a 5.8-inch Super AMOLED iPhone 8/X being the cream of the crop. Samsung has been elected as Cupertino's sole OLED panel supplier, as it is the only manufacturer capable of keeping up with Apple's huge demand. The two corporations recently signed a
two-year contract for $9 billion
which requires Samsung to ship between 70 and 92 million screen panels to Apple in 2017 alone.
However, analysts are still not certain whether this new superphone will be able to accommodate all of Apple's ambitions in terms of features. Speaking to
The Investor
, UBI Research analyst Jang Hyun-jun stated that Tim Cook & Co. envision a screen that will cover the
handset's entire front body
:
Apple is asking for a higher-end display panel than that for the S8... Depending on the adoption, the phone's launch schedule could be adjusted.
Apple also wants to implement a design with more aggressive curvature compared to the S8 as well as on-screen fingerprint scanning. However, the actual implementation of this technology is very much dependent on the display maker's capabilities. Samsung also harbored ambitions of embedding the fingerprint scanner in the display of the Galaxy S8/S8+, but technological issues forced the Seoul-based tech giant to ultimately move the component to the back of the device.
Meanwhile, KGI analyst Ming-Chi Kuo (AKA the iPhone Guru due to his accurate forecasts) also came up with a report for Apple's next flagships today. Kuo agrees that all three models will be announced in September as usual, but he also adds that there will be a delay of 1-2 months in the production ramp up for the OLED iPhone:
Production ramp up of OLED iPhone could be delayed to October-November (previously estimated to be August-September, as in previous years). That said, if new features, such as 3D sensing, can provide good user experience, a temporary supply shortfall won't undermine actual demand, which may be deferred to 1H18. In that case, potential contribution starting late-2Q17 from OLED iPhone could be partially delayed by 3-6 months for related suppliers.