iPhone 7 Plus explodes in China after drop accident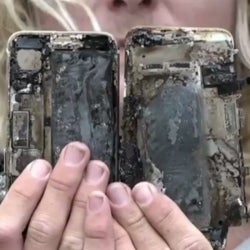 Heads up, people! The smartphone explosions scene had been strangely quiet lately, and unfortunately, this predicted an accident. An
iPhone 7 Plus
exploded in the Yunnan province, Southwest China when it accidentally hit the ground and the battery caught fire by the shock from the impact. Reportely, the Apple smartphone emitted smoke and severe vibrations, while its display shattered and detached from the body. The extent of the damage can be seen in the photos below.
This is the fourth case of an
iPhone 7
exploding that we know of. The other three happened as follows – during deilivery, while the owner was taking a video, and inside a car that almost burned down. While the iPhone 7 doesn't ignite as often as to suggest that it's fundamentally defective like the Samsung Galaxy Note 7 was, Apple must address the problem with all its seriousness.
ALSO READ