iPhone 6s Plus posts excellent battery life, matches the Galaxy Note5 to the minute
99+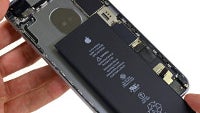 * UPDATE: Recharging time benchmark added!
Never one to bet on specs, Apple always omits a few key details of its iPhones, including the capacity of the cells powering them. Thankfully, it doesn't take long for the industry to disassemble a unit and read the label, and on the
iPhone 6s Plus
it reads 165 mAh less than on its predecessor's: 2,750 mAh. Naturally, then, we were expecting the 6s Plus to score in the 6-hour plus ballpark, about the same as the iPhone 6 Plus. We couldn't have been more wrong.
33,060 seconds. Or 551 minutes. Or 9 hours and 11 minutes. No matter how you slice it, the score that the iPhone 6s Plus achieved on our proprietary battery benchmark is impressive, which is a first for an iPhone in our database. As if to prove a point, the 6s Plus clocked the exact same figure as Samsung's shiny new
Galaxy Note5
, which boasts a slightly larger, 3,000 mAh cell. An excellent showing.
This achievement definitely comes as a surprise, as Apple actually reported identical numbers of standby, talk time, and video and music playback for the 6s Plus when compared with its predecessor. Obviously, these numbers have failed to capture internal optimizations that the company has carried out, and we'll be reaching out to Apple to try and find out what they are. In the meantime, we can't help but wonder if the iPhone 6s Plus holds any other, as pleasant surprises.
So battery life's all good, but do we dare say quick charging with Apple's new phablet darling? Unfortunately, the results from our charge test say "No" loud and clear. At 165 minutes, the iPhone 6s Plus is preeeetty slow to raise from the dead and get to full capacity, and so is decisively outdone by competing Android handsets.
Thumbnail image courtesy of iFixit
Recommended Stories