iPhone 6c rear cover possibliy pictured - new 4-inch iPhone confirmed?
27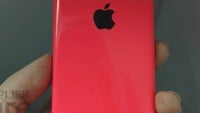 Last week, we heard some noise about
Apple launching some three new iPhones this year
- one of them being a new iPhone 6c to complement the purported iPhone 6s and 6s Plus facelifts. These rumors certainly sound credible, considering a refresh of the iPhone 6 duo is in order, and the market for a smaller, less pricey iPhone still exists. By the sound of it, Apple will return to the iPhone 5s' 4-inch form factor, but it will keep NFC connectivity, TouchID sensor, and Gorilla Glass around, while switching the metal build for a cost-efficient plastic back shell.
Talking about the shell, mobile parts reseller Future Supplier may have landed a sneak peak at the iPhone 6c's plastic back cover. The shell in the photos below is sized for a 5-inch iPhone 5 or 5s, and looks largely identical to the back cover on the iPhone 5c. Still, there are two subtle, yet important differences - first, the camera flash cut out on the purported iPhone 6c back cover has an oval shape, like that of the iPhone 5s, while the cam LED on the iPhone 5c is round. And second, the alleged iPhone 6c back cover has two sets of speaker holes drilled into its bottom side. The iPhone 5c has only a single set of four holes in that same spot.
Our initial reaction upon having a first look at this fine specimen was to ponder the possibility of this being a mere iPhone 5 case. It's the speaker holes that sold us on the credibility of this leak. To refresh your memory, the iPhone 5 looks like this on the bottom. The alleged iPhone 6c case looks quite different.

So we're going to trust Future Supplier for now. Both the website and the industry rumors seem to be up to something. And we think that the probability of a new 4-inch iPhone looks even greater now.
Recommended Stories