iPhone 5's 4-inch screen too small? Here's a solution
39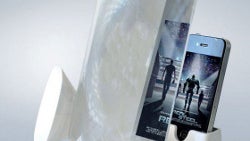 Apple announced the
iPhone 5
last week and it was no surprise that it came with a slightly larger 4-inch screen. That might be good for one-handed operation, but for those with a slightly larger hand and/or enchanted by phablets and the latest crop of high-end Androids with big screens, this might be underwhelming.
The obvious solution for those wanting a bigger screen is simply not to buy the iPhone 5, but if you still want some way to enlarge the display, here is a funny little tool that you may want to use. We'd don't see how anyone would be using this for longer periods of time but for showing off, or for a gift it might be just right. It's the Mini Cinema for iPhone and it's basically a huge magnifying glass stand with your iPhone in the back.
Good thing is that it uses absolutely no power to enlarge that image. Oh and it packs a loudspeaker as well with the obvious application being movies and games (with a controller we guess). It's up for sale for $69 on Fancy, and if you really feel like experimenting hit the source link below.
source:
Fancy