iPhone 5c not gaining traction in China
19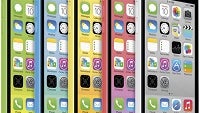 The
Apple iPhone 5c
had all sorts of angles attributed to it, from "cheap" to "color" and whatever else you could think of. Before the 5c was released, one of the prevailing thoughts was that this would be a model targeted to be accessible in developing markets.
When we saw it was simply a color form factor implemented on the previous generation
iPhone 5
, most of those bets were off and rightly so. Rather than be an attractive alternative to the
iPhone 5s
, we were seeing data that showed the iPhone 5c actually driving people to the 5s.
It was thought that when Apple
finally inked a deal with the world's largest carrier
, China Mobile, it was expected the company would see a steady, if not huge, amount activity for the iconic device. However, the 16GB iPhone 5c was starting a $738, roughly $200 more than can be had in the US at full retail. That is a large amount of money in a country where the purchase power parity averages somewhere under $10,000 per year, and as such,
pre-orders with China Mobile were not impressive
by any measure.
Such
economic realities affect the price of electronics around the world
, but in Apple's case, the result is a
growing inventory of iPhone 5c
devices that are
admittedly not in demand
. That demand (or lack thereof) is being reflected in markets around the world, most notably in China, where the iPhone 5c is markedly flat in gaining market share the past few months.
Looking at this graph from Umeng.com, a Chinese analytics network, the iPhone 5s is exceeding the performance of the iPhone 5 from a year prior. The Y-axis is percentage of iOS devices in China and the X-axis represents number of months following the device's debut in the US. The delay for the iPhone 5 is due to the device not launching officially in China for a few months following the US release. The indicators are pretty clear.
Rumors are pointing strongly that the iPhone 5c will be phased out with the release of the new generation iPhone, presumably the
iPhone 6
, this autumn.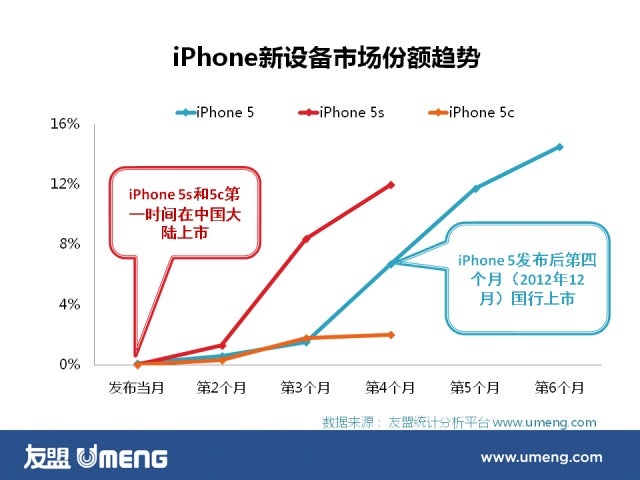 sources:
Ben Evans
via
VR-Zone