iPhone 5 still designed to fit your hand, confirms display specs
33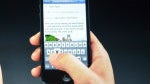 Apple's announcement has hit the moment that we've been waiting for with information about the new iPhone. The specs are what we have expected on the display, but Apple has also explained why the iPhone has the design it does.
The display is as expected a 4" display with a 1136 x 640 screen resolution, which means it has a PPI of 326, which definitely keeps the device in the upper echelon of PPI for a smartphone. The device as a whole is 20% lighter, which is in part due to the
in-cell touch
technology in the display that we have expected. The touch sensors are now built into the displays that Apple has purchased for the iPhone, making it thinner, and Apple claims this will also make for better viewing in sunlight. On top of that, the display is said to have 44% better color saturation
And, as for why Apple designed it to be longer, but about the same width as previous models? "It's because of your hand. It should fit there. That's how we designed the iPhone 5."
Makes sense except for the fact that everyone has different hands. We're unsure whose specific hand was used for this measurement.