iPhone 5 powered by the A6: 2x the power and 22% smaller
53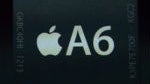 It's not just a bigger screen and higher-res display, the iPhone 5 will also feature an updated processor: the A6, which looks to be a solid upgrade over previous generations. Unfortunately for you spec junkies, Apple doesn't specifically say how many cores or what the speed of the chip is, but if you're expecting that sort of thing from Apple, you haven't been around long.
Apple doesn't really like giving specific specs for its devices and often relies more on showing how things run. Apple's philosophy is that it doesn't matter what the specs are as long as the software is optimized, and the device runs as smoothly as possible. So, we don't know how many cores the A6 has, nor do we know the clock speed, or how much RAM is in the iPhone 5.
What we do know is that Apple says the A6 is 22% smaller, and claims that both the CPU and GPU are 2x faster, but it's unclear what that is compared to. We don't know if that means it is 2x faster than the A5 found in the iPhone 4S, or 2x faster than the A5x found in the new iPad. It makes more sense that Apple is comparing iPhone to iPhone, which would mean that the A6 should have the same
quad-core GPU
found in the A5x, but with a faster CPU on the chip.