iPhone 4S and Samsung Galaxy S3 dragged behind a car
54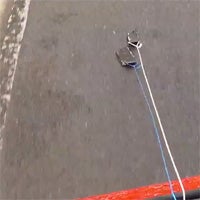 Samsung Galaxy super-fan website, APerfectGalaxy.com, has posted a video to YouTube of its self-named "Drag Race Scratch Test: Samsung Galaxy S III vs. iPhone 4S." As the name implies, they tethered both a
Samsung Galaxy S III
and an
iPhone 4S
to the back of a vehicle, laid them face down on the concrete and took off driving while a very energetic cameraman filmed and narrated the event from the truck of the car.
APerfectGalaxy says the "test" shows us the "superiority" of the S3's display. As with all of these types of videos out there, depending on the nature of the "test", we've seen each of these phones take the top spot, but if you are planning on dragging your mobile device behind your car, we guess the Samsung Galaxy S III takes the cake.
While we're sure you can make a case for either of these devices being tougher than the other, there is no denying that there is some sort of unexplainable draw to watching people ruin their expensive things in new and crazy ways.