Lame iPhone 11 upgrade? Apple to shout 'first' on at least another 'new' feature
26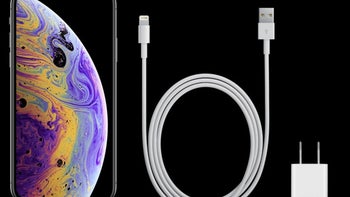 While Apple's current iPhone XS, XS Max and XR have fast-charging circuitry built in, they ship with regular chargers that would likely take more than two hours to top their larger batteries, for example. Apple does offer a fast 30W USB-C Power Adapter that will load your new iPhones to 50% in 30 minutes flat, but that one will cost you $49 extra.
Still, Apple does give you other options, as it lists on its official support pages that the fast-charging functionality of the new iPhones is certainly accessible by plugging in certain third-party USB Power Delivery (USB-PD) adapters, and combining them with an "Apple USB-C to Lightning" cable (sold separately).
Long story short, as you can read from the new iPhones' website small print, you can't fast-charge your iPhone XS, Max or XR on the cheap with what Apple included in the box, but would rather have to buy its separate $50 adapter, or use a compatible third-party one for fast-charging on the cheap. Bummer.
Enter the 2019 iPhone 11 models, and today another report confirms that they will ship with a USB-C charger as well as a Lightning to USB-C cable in the box.
This will mark the first time that Apple offers both a fast-charging iPhone, and the means to actually top it off in a jiffy in one and the same box, so why wouldn't we say they are innovating! Plus, you'll get a wide-angle camera for the first time on an iPhone, and that's another "first" to shout about. Well, for iPhones, that is.