iPawn adds a dose of interactivity to iPad board games
1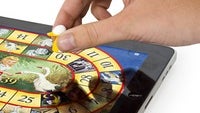 Now here is an interesting concept – using physical pawns to play board games on your iPad. Well, a company called Jumbo has turned this idea into reality with a product called iPawn.
Sure, the iPawn may look like an ordinary piece of plastic, but it is a little bit more than that. The material that it is made of is conductive, which means that the tablet can sense when your fingers are touching the pawn and will respond as if you were touching the display itself. That way, iPad board games can respond accordingly every time you are touching or moving the pawn by playing sounds and animations.
Once it launches later this month, the iPawn ($16) will come in different forms tailored for different games, and the game itself will come included in the set. The list of titles includes Game of Goose, Snakes and Ladders, and Air Hockey, so it is clear that the product is made with children in mind. Feel free to watch the promotional video for iPawn below, and if you find it interesting, do not hesitate to share your thoughts with us in the comments.