iPads and polarized sunglasses don't mix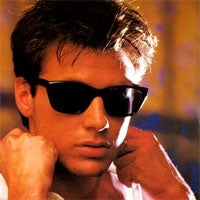 If you've every laid out in the sun with your iPad, you may have noticed that the device is not usable if it is held in portrait mode while wearing polarized sunglasses. This has held true since the first iteration of the iPad and now new iPad owners are saying the issue still persists.
As you can see in the video below, as the iPad is rotated into a portrait orientation, screen visibility is completely lost. In comparison, the iPhone's screen is polarized at a 45-degree angle making the device usable in the most common orientations – portrait and landscape.
This effect is not limited to iPads or Apple products; all LCD screens are affected to some degree or another. While some have an extinction point, like the iPad, others only have a color shift. The most common practice among manufactures is to orientate the polarization at a 45-degree angle, as seen on the iPhone, to minimize the impact.
While this probably isn't the most common issue, and certainly not a deal breaker for most users, it is strange that after 3 releases of the iPad, Apple still hasn't adjusted the polarization angle, especially considering that people today are using their tablets everywhere and in a wide variety of application.
source:
ZDNet