iPad 3's new features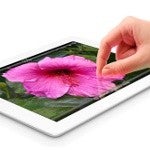 You've probably already heard that there's a new iPad on the block, but between all the information about release dates, prices, carriers and what not, you might have missed some of the most important stuff - the actual new features of this lovely tablet. In the gallery below, we're offering you a breakdown of all the new features of the tablet.
By the way, it's worth noting once again that the new iPad is actually called... iPad, and not iPad 3, or iPad HD. But we'll call it either "the new iPad" or "iPad 3" just to make things clearer. Anyways, enjoy the gallery, and feel free to share your thoughts about the new features in the comments below!