iPad 2 data service plans from AT&T and Verizon go head to head
13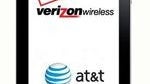 So, you have your mind set on getting a 3G-enabled Apple tablet with a cellular data plan. Regardless of which one of the two options you pick – a first generation iPad with 3G connectivity, which you can buy today, or waiting for the 3G-capable version of the iPad 2 to hit the shelves in a couple of days, it is either
AT&T
or
Verizon
where you will be getting your 3G data from. Before taking out your credit card it may be wise to become a bit more familiar with what the two carriers have to offer in terms of 3G data plans.
The entry level iPad with 3G connectivity and 16 gigs of storage is for sale on AT&T's website for a discounted price of $529 while supplies last. This isn't a bad deal considering that Verizon has yet to slash the prices of the iPads it offers. As of today, a Wi-Fi-only iPad bundled together with a Mi-Fi hotspot device is listed for $629 on Verizon's website.
Verizon's data plans for the iPad start from $20, all of them are contract-free, and can be started or stopped whenever subscribers would like. The most basic data subscription buys you a gig of traffic and charges an additional $20 for each gig extra, but requires a rather steep $35 activation fee – almost twice as much as the data fee itself. The same activation fee applies to users, which have chosen to stop their data plan and renew it after a period of three months or more. Other Verizon 3G data plans include three, five, and ten gigs of traffic and cost $35, $50, and $80 respectively.
Similarly to Verizon's offers, choosing a data plan from AT&T does not require you to sign a contract, which eliminates the hassle of long-term commitment. Once activated, subscriptions get renewed automatically on a monthly basis, but subscribers can cancel their data plan at any time without the need to pay any additional fees whatsoever. $15 will provide you 250 MB of data and going beyond that milestone will cost an additional $15 for every 250 MB of extra traffic used. A 2 GB data plan is also available for the price of $25 per month with each additional gigabyte of data costing $10 extra.
Now that you know what both carriers are providing you for your money, which one of the plans seems most convenient for you? Feel free to drop a comment below and let us know.
source:
AppleInsider