iOS 8, Amazon's unique smartphone, and the latest Samsung Galaxy F leaks: Weekly news round-up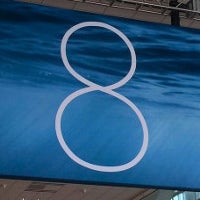 The announcement of iOS 8 was last week's hottest story – hardly a surprise given the anticipation that has been building around the latest version of Apple's mobile OS. Scheduled to launch later this year, the platform's eighth major release will bring along plenty of goodies to iPhones and iPads, including more versatile notifications, widgets, third-party keyboard support, and so much more. Best of all, all iPhones from the iPhone 4s onward will receive the update once it is ready for prime time. Good job, Apple!
Amazon also made headlines with its upcoming event. Scheduled for June 18, it is when we'll probably get to see the long-rumored Amazon smartphone. Information is scarce, but it is believed that the device will be taking advantage of some new three-dimensional interface. Sounds interesting, but let's not get too excited just yet.
In other news, we've been hearing about a Samsung phone called the Galaxy F for a while. And last week, photos allegedly depicting the handset leaked on the internet. The Samsung Galaxy F is said to be a "premium" phone with a metal-made body and very powerful internal. For more details, flick through the slideshow below!