iOS 10.3 will change your iPhone, iPad, and iPod's file system – don't worry, your data is safe!
12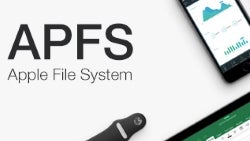 As solid-state storage has become quite common in computers and mobile devices, Apple built a brand new file system to better take advantage of it. It's called APFS and it was made part of macOS Sierra, in an early form for developers to tinker with. It will eventually become the default macOS file system, and the same will happen with iOS. The update to version 10.3 will migrate your iPhone, iPad, or iPod's file system (as well as the Apple Watch and Apple TV) to APFS.
Thankfully, when the time comes, your data won't be erased in the process. Somehow, Apple has managed to preserve your data from being wiped in the name of a pain-free user experience. However, creating a backup of your data is still highly recommended in case anything goes wrong.
It is unlikely that the switch to APFS will enable major new functionality for users. It could, however, improve device performance thanks to its optimization for solid-state drive storage.
ALSO READ
Recommended Stories