iFixit posted photos of a Sony Xperia Z5 teardown, check them out here
8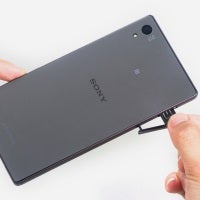 Want to see if the Sony Xperia Z5 looks as good on the inside as it does on the outside? Leave it to iFixit to lay a flagship smartphone's guts on the table for everyone to see! The operation begins with removing the SIM card tray from its slot. Following that, the back cover is heatened to soften the adhesive holding it, and the Z5's sarcophagus-like shell is cracked open with a suction cup and metal tool.
As per usual Sony standards, the components are neatly packed and arranged inside the assembly, and Xperia smartphone repairmen will probably find fixing it familiar and straightforward. The two copper heat pipes used to cool down the chipset and other heat-generating components are visible to the naked eye, and they do provide a cooling advantage to the smartphone, letting it last up to 10 minutes of 4K video recording (depending on external temperature conditions) before heating up.
The $670 smartphone is Sony's fifth-generation Xperia flagship. Sold in White, Gold, and Green, with 32GB of storage, the device features a 5.2-inch, 1080p resolution screen and is powered by the Qualcomm Snapdragon 810 SoC with 3GB of RAM. There's a 23MP camera on the smartphone's rear, along with the 5MP camera adorning its front. A 2900mAh battery feeds the mains, and the operating system is Android
5.1
. In the meantime,
check out our unboxing article and video
to get hyped, or read our
thorough review of the smartphone
if you have a spare minute! Also, do pay the knowledgeable folks at iFixit a visit to see the rest of the pictures.