Google's AR tape measure app is now available on all ARCore-enabled devices
9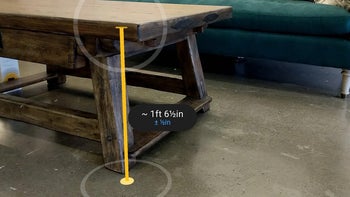 Google Measure is a digital tape measure app that up until now was exclusive to
Tango-enabled
phones, but since Google dropped support for the AR platform in March, the app is now available to all ARCore-supported devices.
ARCore
is Google's new augmented reality platform and it has a much broader scope, in that it's supposed to work on as many phones as possible, instead of on just a few devices with specialized hardware. As such, it has a much broader appeal and is a perfect match for Google Measure, which also has a very broad appeal. Tape measure in your pocket at any time and anywhere? Sounds great!
As the name suggests, Google Measure allows you to estimate the distance between two points in the real world by pointing and moving the camera of your phone. It may not be as accurate as real tape measure, but it's still good enough to get a clear idea of the distance you're measuring. To get the best results possible, you'll need to be in a well-lit environment, as is the case with most ARCore apps.
Google Measure 2.0 is now live on the Play Store and is compatible with all ARCore-supported devices. You can download it from the link below.