Google Maps is getting a Waze feature that's been long overdue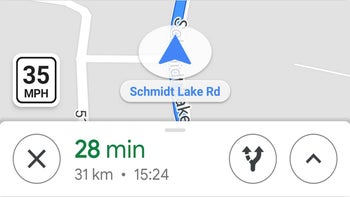 Google Maps and Waze are two ostensibly similar, yet very different, services offered by Google. Still, it's good to see one learning from the other, especially since people have been complaining for a long time. We're talking about the lack of speed limit alerts in Google Maps – a highly-requested feature that is a staple of Waze and is now finally going live in Maps (in some places).
As far back as July 2017, the speed limit feature in Maps has been reported to work in some parts of California and Brazil. Now, Google is seemingly ready to roll it out to a wider audience. On one hand, it makes sense that Google is trying to keep the two services different – after all, they excel in different things, and while Waze is a driver-focused experience, Maps caters more to exploring areas on foot. On the other, come on, it's the speed limit warning that we all know and love from.
According to
Android Police
, the speed limit alert in Google Maps has gone live for users in New York, Minnesota, and Los Angeles. Considering the distance between them, this is likely not a location-based update, but rather a server-side switch that Google has decided to flip (in the US, at least). Of course, as with almost any new feature in a first-party Google product, you may still have to wait until it reaches your country (even though Waze has had this for years).