Google Play Store has instant game demos – try a game without installing it
4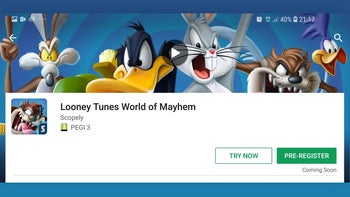 Google Instant Apps is a neat concept, albeit vastly underutilized. Google is now looking to take it to the next level with a new collaboration with AppOnboard – a mobile developer that has created a scalable game engine that takes advantage of Instant Apps to deliver live game demos to the Google Play Store. The demos can be played from within the store, without having to actually install anything.
Previously, AppOnboard's engine was available only to partners within its advertising network, but now, in partnership with Google, the platform will be integrated with Instant Apps and hopefully expand its reach to many other mobile game developers. In-store playable game demos will be marked with a "Try Now" button next to the "Install" button, much like apps that already support the feature.
There's no word yet on the maximum size of demos allowed on Google's online storefront, but developers will likely be given quite a bit of leeway in this regard, seeing as how mobile game download sizes have exceeded the 2GB mark.
If you're already itching to try a demo out,
Looney Tunes: World of Mayhem
is one of the recent examples that leverages AppOnboard's tech. Just follow the link and tap the "Try Now" button. This will open a new window where the game demo will load. You can then play a small portion of the game without actually installing it on your device (though you'd still be using data, don't forget about that).
Currently, not many titles have live demos on the Play Store, but now that Google has endorsed AppOnboard, we hope to see more pop up on the storefront in the coming months. This would not only be helpful in terms of saving you from installing
yet another
app on your phone, but can be used by developers to offer fans an early look at their games, as is the case with
Looney Tunes: World of Mayhem
.