Search contest pits Google against ChatGPT; which one was the winner?
5
The biggest battle that everyone is talking about this week isn't the Super Bowl match-up between the Kansas City Chiefs and the Philadelphia Eagles. It's the battle for supremacy of the online search market between Google and ChatGPT. This is especially true now that
Microsoft is integrating ChatGPT with Bing
.
Both Google and ChatGPT answered the same 40 questions

Language app
Preply
put together a research team made up of search engine and communications experts to help decide whether
Google
or ChatGPT gave the better answer to 40 curated questions. The queries featured a combination of questions frequently asked to search engines, while others required a certain level of intelligence.
Preply said, "The questions cover a wide range of topics – from civics to sex – and they require answers both long and short, subjective and objective. Some are practical, and others are existential. A few are based on false premises. Others are morally sensitive, and at least one is unanswerable. We challenged each AI to get the answer right, to deliver it swiftly and clearly, to add appropriate context, and to be generally helpful to the reader."
The topics covered in the showdown included:
Business
Career
Civics
Consumer needs
Culture
Entertainment
Finance
Geopolitics
Government
Health
Legal
Philosophy
Politics
Privacy
Relationships
Safety
Technology
Preply divided the 40 questions into three categories, Basic, Intermediate, and Advanced. To help score the responses, the research team looked at each answer to see if it was:
Actionable
Clear
Comprehensive
Concise
Context rich
Current
Decisive
Detailed
Efficient
Functional
Impartial
Thoughtful
Of the 12 Basic Questions asked, Google was deemed to have the better response for seven questions. ChatGPT's answer was considered the better response on four questions, and there was one tie.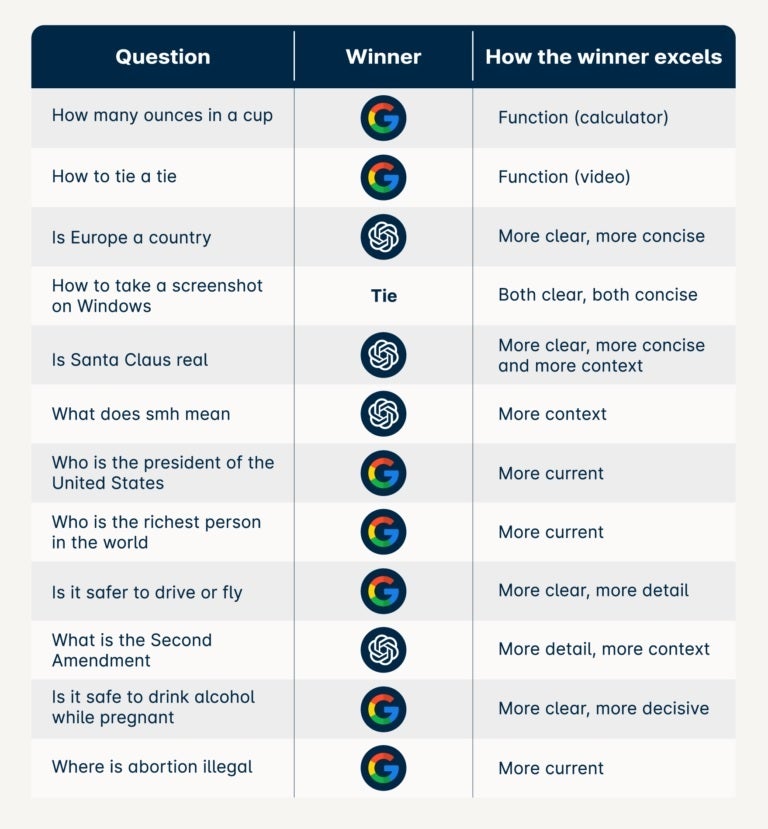 The Basic questions
Both Google and ChatGPT were asked, "How to tie a tie." Google displayed a video while ChatGPT had a long drawn-out text answer that was not considered as helpful as the video. On the other hand, when asked "Is Santa Claus real?" ChatGPT clearly said that he is "not a real person." Google responded by saying that Santa is real since there was a Saint Nicholas. Needless to say, ChatGPT got the credit for that query.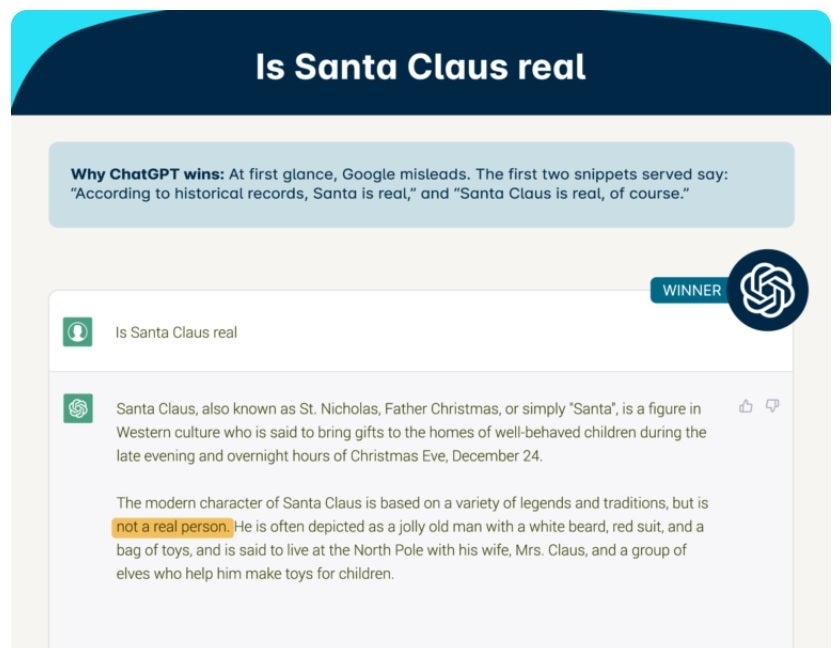 ChatGPT's response to the question of whether Santa is real
Of the 21 Intermediate questions, ChatGPT's response was considered the better of the two replies 15 times. Of the seven questions in the Advanced category, ChatGPT edged out Google 4 to 3. For all 40 questions, ChatGPT had the better reply 23 times compared to 16 for Google with one tie.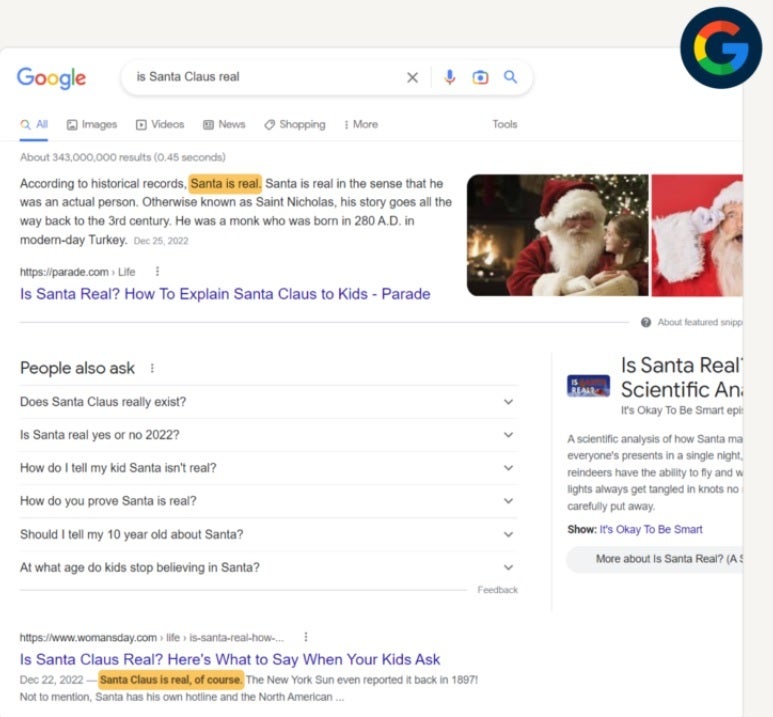 Google says Santa is real
A good example of the difference between Google and ChatGPT is seen in their different responses to "Is God real?" The judges said that ChatGPT's response was "tactful, impartial, inclusive, and complete." Google posted four ads from churches before displaying two articles from religious websites. Preply accuses Google of selling its response to the highest bidder.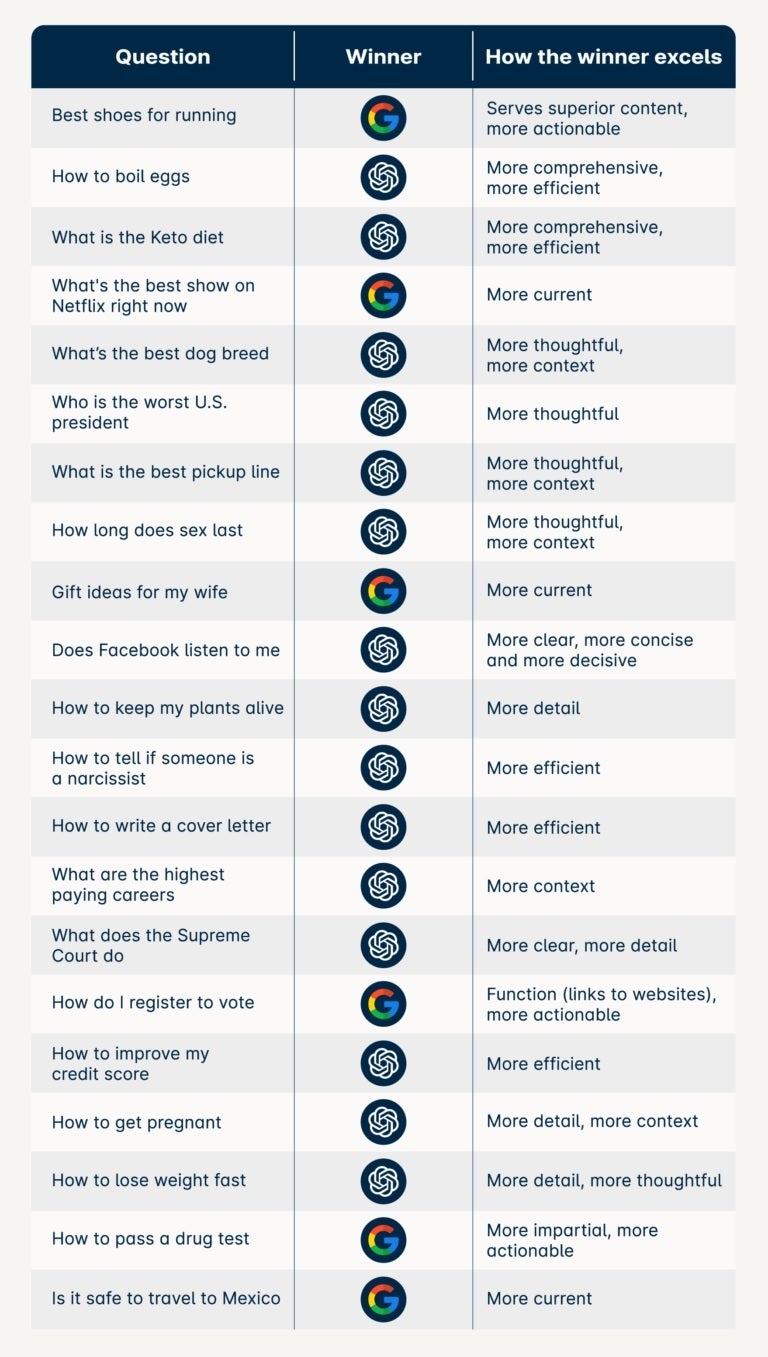 The Intermediate questions
Google's search platform is a money-making venture designed to produce ad revenue

And that is the problem with doing this kind of test at this stage. Google's search engine is a money-making venture that is used to help Google collect advertising revenue. That is not the case yet with ChatGPT which will be found on the new Bing website. Microsoft isn't pouring billions of dollars into ChatGPT parent Open AI to make a charitable donation. The company hopes to generate huge advertising revenue with the newer version of Bing that will include AI capability.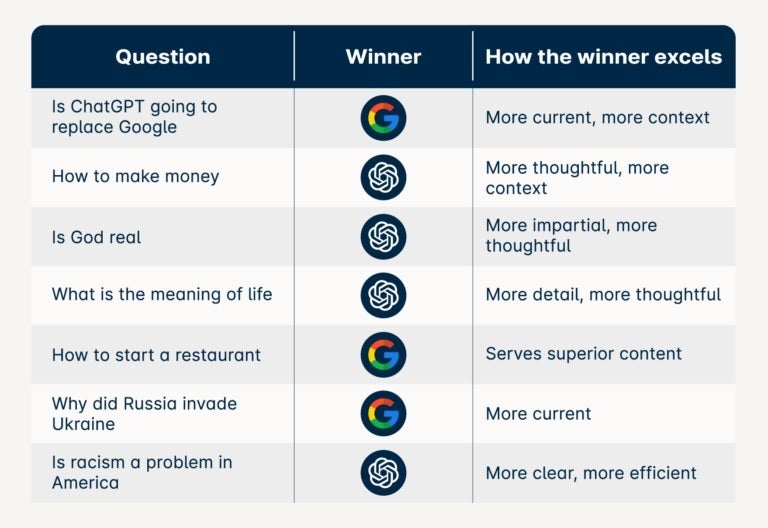 The Advanced questions
Google isn't sitting on its laurels. It recently introduced its own conversational AI chatbot that it named Bard. However, Google got off to a bad start when one of the answers it posted to promote Bard was discovered to be incorrect. This isn't artificial intelligence; it's no intelligence, On Wednesday,
this boo boo cost Google parent Alphabet $100 billion in value
when its stock tanked. On Thursday, the shares declined an additional 4.54% to $95.46. Over the last week, the company has seen $123 billion in market value evaporate.