goTenna - personal antenna for hikers
14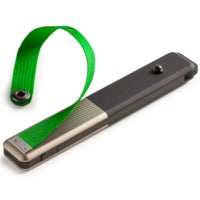 For people who like to hike, camp, or otherwise tend to fare off into less populated areas on a regular basis, cell reception has always been a problem. Sure, a smartphone is always a great thing to have when on a trip, especially if you load it up with a couple of movies or a favorite game, however, if you are in the middle of nowhere and your handset fails to get a signal, it can be quite frustrating.
Enter goTenna – a device designed for people who oft find themselves in such situations. It is a powerful personal antenna that can communicate with other such devices at a distance of up to 50.5 miles, according to its makers. It is sold in pairs, so you can leave one with the person you'd need to contact and keep the other one with you. To connect to your smartphone, the goTenna needs to be within a 20-foot radius. It utilizes Bluetooth via the Low-Energy protocol, which should help boost battery life. Communication is done via goTenna's free app and allows for text messaging and GPS location sharing. It can connect you with any goTenna owner within its ~50 mile range, so you can even create a mini secure network with your friends. It supports iOS 7 or above, and Android 4.x or above.
The device is up for pre-order now on goTenna's website, for the early bird special price of $149.99 per pair, with the retail price to be $299.99 when it's released.