Apple offers free repair to fix a serious issue on a "small percentage" of iPhone 7 units
30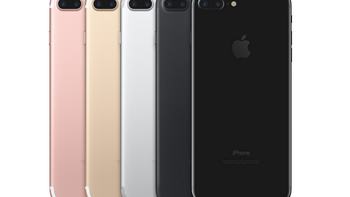 Apple is now offering free repairs to those with an
iPhone 7
suffering from a pretty serious glitch. A component failure found on a "small percentage" of units is making it appear as though the device is not connected to a cellular network when in truth, it really is. Apple said that those units suffering from this problem were sold from September 2016 to February 2018 (that is this month, by the way) in the U.S., China, Hong Kong, Japan and Macau.
Those who already paid for a repair to fix this matter will be reimbursed by the company. This happens to be the fourth component replacement program offered by Apple for the iPhone since 2015. Certain model numbers in different countries are eligible for the component replacement:
China-Model numbers A1660, A1780
Hong Kong-Model number A1660
Macao-Model number A1660
U.S. (includes Puerto Rico and U.S. Virgin Islands)-Model number A 1660
Japan-Model number A1779
If the model number on your Apple iPhone 7 matches one of the numbers listed for the country where you bought your handset, you need to contact an Apple Authorized Service Provider, an Apple Retail Store, or Apple Technical Support. You can find the locations near you, and the phone number to call for an appointment, by clicking on the sourcelink.

"Apple has determined that a small percentage of iPhone 7 devices may show "No Service" in the status bar (even if cellular coverage is available), due to a component that has failed on the main logic board.

These affected units were manufactured between September 2016 and February 2018 and sold in China, Hong Kong, Japan, Macao, and the U.S. See below for iPhone 7 model numbers that are covered in this program.

If your device exhibits the symptom described above, Apple will repair your device, free of charge. Your iPhone will be examined prior to any service to verify that it is eligible for this program. This program only applies to iPhone 7.

Apple will be contacting customers via email who may have paid for a repair related to this issue to arrange for reimbursement. If you believe you paid for a repair related to this issue, and have not received an email from Apple by the end of March 2018, please contact Apple."-Apple
source: Apple