eBay intern uses ARKit and iPhone X TrueDepth camera to develop potentially groundbreaking AR tool
17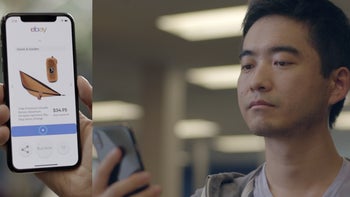 Augmented reality has been constantly hailed as the single most groundbreaking new technology over the past half a decade or so by both industry pundits and companies as diverse (and huge) as
Google
,
Apple
,
Samsung
, and
Microsoft
. But in all honesty, we've yet to see a truly life-changing AR-powered experience or app.
While waiting for the
necessary hardware
to drive innovation forward, you'll be happy to hear existing experimental software has been used to create a potentially revolutionary tool called HeadGaze.
This is a new type of open-source technology developed by a young eBay intern and University of California PhD Candidate, leveraging Apple ARKit resources and the
iPhone X
TrueDepth camera to support head
motion
tracking for hands-free mobile device navigation.

As you can imagine, everything's still a little rough around the edges, but a sample of HeadGaze's incredible potential is showcased in "example app" HeadSwipe, also available as a free GitHub download.

Basically, what reusable technology library HeadGaze does is create a "virtual stylus that follows the motion of your head (up, down, side to side)", applying a complex method called "3D geometry mapping" to get the location of the "cursor" on the screen.

In other words, a mouse-style desktop navigation experience is enabled, with your head pointing to any location on the iPhone X screen to activate designated "buttons." As a proof of concept, HeadSwipe lets you swipe eBay deals... with your head, and although the app looks fairly slow in a short demo video, it could mark the beginning of something big.

As lead developer Muratcan Cicek points out, HeadGaze could be used in the not-so-distant future for a number of actually convenient, non-gimmicky AR-powered tasks like scrolling through a recipe while cooking, following on-screen instructions during a messy car engine tinkering session, or simply operating your phone with normal gloves on.
All of that could be possible without getting your hands dirty, which is especially important for people with motor impairments like Cicek himself. That's right, this guy (along with his "team", of course) created HeadGaze and HeadSwipe without full control of his limbs.
While
pursuing a PhD and completing an eBay internship. What have you been doing with your life?